According to Ford's just announced plans, my 2022-2024 target for mass deployment of self-driving vehicles in the US is right on target if not overly pessimistic.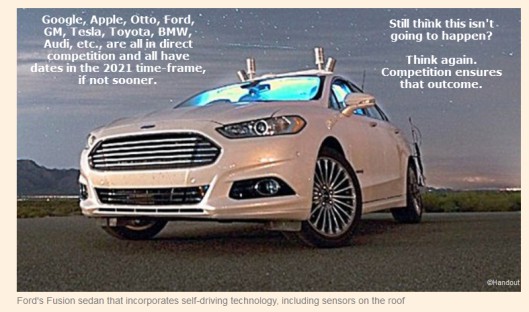 Ford says it will build a totally self-driving car by 2021 as it seeks to take the lead in the global race to produce the world's first high-volume driverless vehicle.

The car, which will have no steering wheel or pedals, will be used in the driverless taxi services that Ford said it expects to dominate the market in the coming decade.

There's a real business rationale for this," said Ford chief executive Mark Fields.

He said the cars will be "specifically designed for commercial" services such as ride-booking or ride-sharing.

The move pits Ford directly against Google and Apple as well as rival car manufacturers such as BMW, which has formed a joint partnership with Intel and Mobileye to develop a fully driverless vehicle by 2021.

When it announced the deal last month, the German carmaker said it wanted to become the "number one in autonomous driving".

But Ford has announced a number of investments it hopes will give it the edge over its rivals.

Michelle Krebs, a director at Auto Trader, said: "General Motors has been grabbing all of the headlines of late, and Ford can't be happy about that, especially as some Wall Street analysts have wondered if Ford is falling behind."

Raj Nair, Ford's chief technical officer, said driverless cars for individual use would come later. "We don't expect to see fully autonomous vehicles for personal use for several years after they are first introduced", he told a press conference in Palo Alto on Tuesday.

The industry believes that driverless cars will result in far fewer road deaths globally, as more than 90 per cent of accidents are a result of human error.
2021 Book It!
Disclaimer: The content on Mish's Global Economic Trend Analysis site is provided as general information only and should not be taken as investment advice. All site content, including advertisements, shall not be construed as a recommendation to buy or sell any security or financial instrument, or to participate in...
More