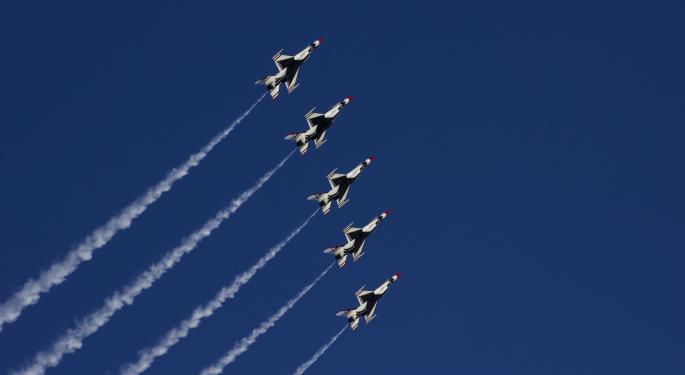 The defense and consumer goods sectors have had consistent growth over the past five years. This year is no different, as both sectors have more than five companies trading at 52-year highs.
Defense Sector
Lockheed Martin Corporation LMT 0.35% is up 33 percent from its 52-week low, trading at $242.13 vs. $181.91. Lockheed has continued to outperform counterparts such by securing contracts with countries around the globe. For example, the U.S. Pentagon contracted Lockheed for a defense contract worth $321.8 million and Lockheed beat out Boeing Co BA 1.53% and Airbus to secure a Danish fighter Jet Order for its F-35s.
Other Notable Defense Companies With 52-Week Highs
Related Link: Wal-Mart To Test Unlimited 2-Day Shipping, But Is It Too Little, Too Late?
Consumer Goods Sector
Campbell Soup Company CPB 0.33% leads the sector in growth with 45.7 percent growth trading at $65.90 vs. a low of $45.23. Campbell, like its peers ConAgra Foods Inc CAG 0.39% and Kellogg Company K 0.05%, has continued to profit from the very lucrative health foods movement that has taken a hold of the United States. Health headlines, endorsements and contracts with major grocery stores have contributed to this sector's constant growth.
Other Notable Consumer Goods Companies With 52-Week Highs
© 2016 Benzinga.com. Benzinga does not provide investment advice. All rights reserved.