This weekend, Draghi
sounded like the ECB is ready to try QE, though it wants to leave that as a measure of last resort - of course. Draghi noted that deflationary risk is intensifying. Traders, or at least analysts are taking his speech at Jackson hole as a sign that ECB might implement QE in its next meeting. If this week's inflation data weakens to an annual pace of 0.3% in the Eurozone - the average forecast - then I think the chances would increase even more.
The EUR/USD dipped from a close of 1.3240 on Friday to about 1.3183 to start the week. The 1H chart shows a price gap at the open, and an intra-session double bottom attempt. However, soft German Ifo Business Climate report may have prevented this near-term bullish scenario. The reading in August came in at 106.3, down from the 108.0 print from July. This also missed an already pessimistic forecast around 107.1, and is the 4th straight month of decline since April's 111.2.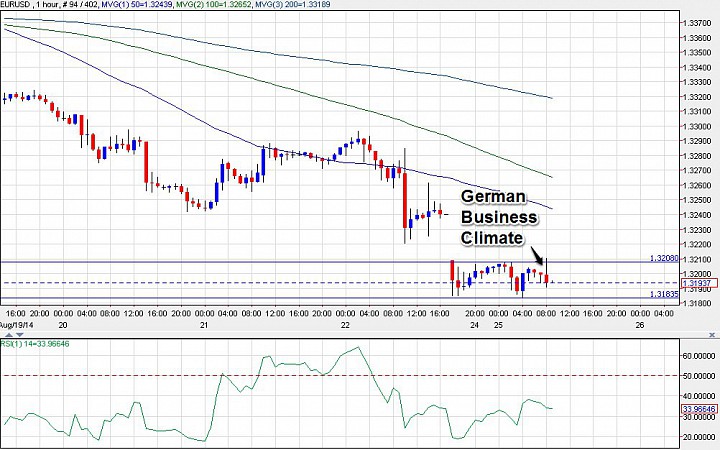 (EUR/USD 1H chart 8/25)
If price does pop up above 1.3210, which would complete the double bottom, there might be a near-term rally up to 1.3240-1.3250. However, with the prevailing bearish trend intact, we should expect sellers in this area especially if the RSI approaches 60.
To the downside, if price breaks below 1.3180, the 1.3105 low from Sept. 2013 will be in sight.
Let's see what happens after 10:00AM ET, after the US New Home Sales data is released. It is expected to have a reading around 426K for July, which would be a rebound from the 406K reading for June. Housing data has been improving and beating expectations. IF the reading does so again today, EUR/USD might not get a chance to close the gap before continuing the bearish outlook. However, if strong US data fails to push EUR/USD below 1.3180, then we can expect a near-term bullish correction to close the gap.