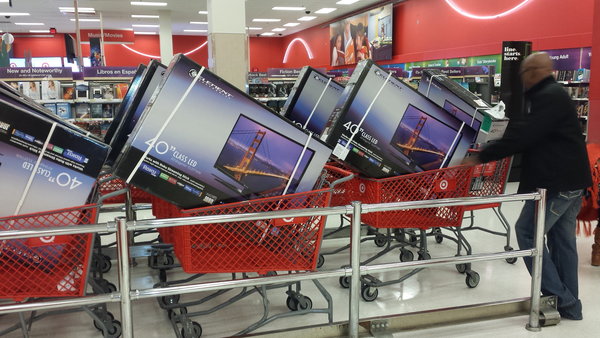 (Image source: latimes)
Traffic was up in stores, but less buying occurred. According to the National Retail Federation, traffic was up 1.4 percent over the four day period. Thanksgiving Day alone was an increase of 27 percent jump in traffic. However, total spending for the period was only estimate at $57.4 billion, which is $1.70 billion lower than last year. Thanksgiving Day and Black Friday generated estimated sales of $12.3 billion according to ShopperTrak. The 2013 average Thanksgiving Holiday shopper spent $407, a decrease of $16 from last year.
Online retailers saw a rise in sales and traffic. According to the National Retail Federation, 59 million people were online shopping. Online shoppers spent an average of $178.
Tablets, big-screen TVs, and smartphones were the hot items of the season.