UK Factory output in May slumped, falling -1.3%. Forecasts had called for around a 0.4% gain. The GBP/USD slid after the release breaking below the low on the mont of 1.7095. However the 4H chart shows support in that area as price pushed back above 1.71. 
A rounded top has been formed, and the mode looks to be shifting in the 1H GBP/USD Chart: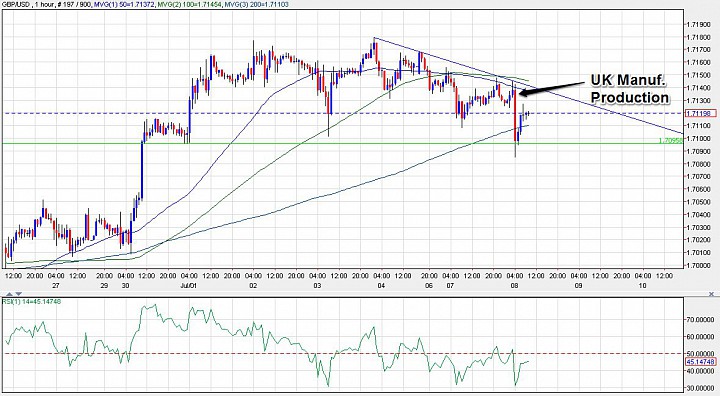 The 1H chart shows the dip below the previous monthly high, but quick support. The momentum is turning bearish in the 1H chart. The moving averages are moving together and reflect the consolidation range GBP/USD has been in during all of July, between roughly 1.7180 and 1.7090.

If price can push back above 1.7150, a bullish continuation would be in place. A hold below the near-term falling trendline, and below 1.7150 should reflect a top being put in place and signal a bearish correction.

FOMC: If there is a bearish correction, it is not because of weak manufacturing data in May but because traders are anticipating tomorrow's FOMC meeting minutes.
The GBP/USD has a chance to rally after the minutes because they are likely to either remain course or push back the expectation for a rate hike. Currently, a rate hike is projected to be in mid-2015.

If there is a push back in expectation, the GBP/USD should be in bullish continuation in a hurry. However, if the minutes keep the outlook to mid-2015, GBP/USD might need to consolidate a little more, but should remain bullish.

The 1.70 and 1.7050 levels are previous support and resistance pivots. Any bearish outlook should first be limited to these levels. In fact if price does approach 1.70, look out for buyers.