What happened
Five Below (NASDAQ: FIVE) stock gained 22% through the first half 2017, according to data provided by S&P Global Market Intelligence.
The retailer's shares even traded over $50 for just the third time since 2013, but they have since moved back down below that record mark.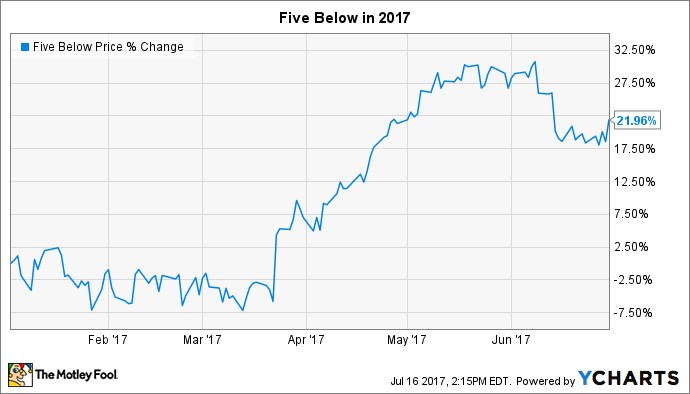 So what
The rally was sparked by news in late March that Five Below managed solid sales and profit growth over the critical holiday shopping period. Revenue jumped 19% in the three months ended Jan. 28 as net income improved to $50 million from $42 million a year ago.
Most of that sales gain came from an expanding store base, but the retailer also managed slightly higher comparable-store sales even as gross profit margin ticked up. Five Below logged a 20% spike in revenue for the full year as it added 85 new stores to its base and passed $1 billion in annual sales.
Now what
Five Below's most quarterly recent results, released in early June, show continued positive operating momentum. Comps sped up to a 3% growth pace from 1% and profitability expanded slightly. "We are very pleased to start 2017 with strong first quarter results," CEO Joel Anderson said in a press release. "Sales, comps and earnings came in above expectations," he continued.
The firming growth pace gave management confidence to hike their full-year outlook on both the top and bottom lines. Five Below is now expecting comps to rise at a 3.5% pace at the midpoint of guidance -- up from 2% in 2016. It is also aggressively moving into new markets, with 100 stores slated to join the portfolio in 2017.
10 stocks we like better than Five Below
When investing geniuses David and Tom Gardner have a stock tip, it can pay to listen. After all, the newsletter they have run for over a decade, Motley Fool Stock Advisor, has tripled the market.*
David and Tom just revealed what they believe are the 10 best stocks for investors to buy right now... and Five Below wasn't one of them! That's right -- they think these 10 stocks are even better buys.
Click here to learn about these picks!
*Stock Advisor returns as of July 6, 2017

Demitrios Kalogeropoulos has no position in any stocks mentioned. The Motley Fool recommends Five Below. The Motley Fool has a disclosure policy.