After a significant rally to end 2016, crude oil has turned lower again over the first half of 2017.
It has taken a number of oil stocks down along with it, including Master Limited Partnerships like Magellan Midstream Partners (MMP).
The stock has declined 7% year-to-date, but investors are throwing the baby out with the bathwater.
Magellan's cash flow is only modestly impacted by falling oil prices, thanks to its toll road style business model.
This allows the company to continue increasing its dividend, even during the oil downturn. Magellan is a Dividend Achiever, a group of stocks with 10+ years of consecutive dividend growth.
Even better, the dip in Magellan's share price this year has pushed its dividend yield up to 5%.
Magellan is one of 416 stocks with a 5%+ dividend yield.
This article will discuss why income investors should consider taking advantage of the market's irrational punishing of this high-quality MLP.
Business Overview
Magellan operates three core segments:
Refined Products (58% of operating profit)
Crude Oil (32% of operating profit)
Marine Storage (10% of operating profit)
The Refined Products segment is Magellan's largest, which includes 9,700 miles of refined products pipeline.
It also includes 53 connected terminals and another 27 independent terminals, as well as a 1,100-mile ammonia pipeline system.
(Click on image to enlarge)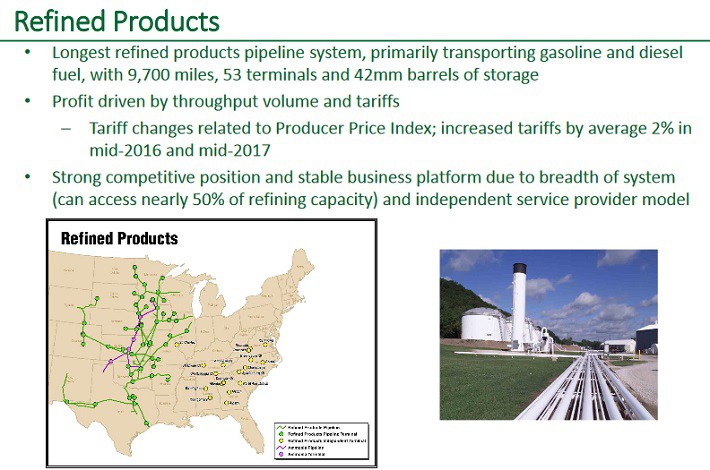 In addition, the Crude Oil segment includes 2,200 miles of crude oil pipelines, with storage facilities that hold capacity of 26 million barrels.
Lastly, Magellan operates five marine terminals, that also hold storage capacity of 26 million barrels. The Marine Storage segment enjoys long-term contracts, with utilization consistently above 90%.
Magellan's business model provides the company with several advantages.
As an operator of pipelines and storage terminals, Magellan is heavily insulated against protracted declines in commodity prices.
The business model acts similarly as a toll road, in that Magellan receives fees based on volumes of products transported and stored through its...
More