Yesterday, when we first reported that CVS had terminated Valeant's scandal-ridden Philidor specialty pharmacy whose sole customer just happens to be Valeant...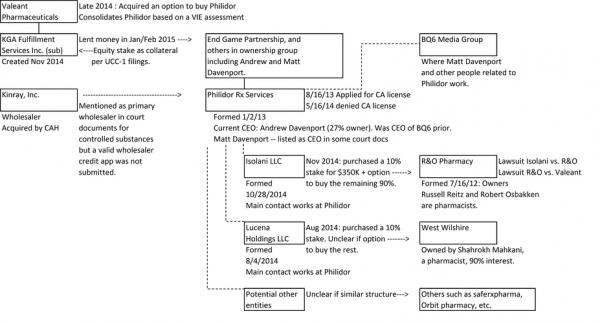 ... from its Pharma Network, we predicted that "where CVS goes, others will promptly follow, not only leading to a prompt termination of any and all overinvoicing benefits Philidor provided to Valeant, but leading to a crack down on specialty pharma organizations everywhere, and likely finally inviting a federal inquiry into just what is going on, because for a pharmacy to admit that there was fire where until just now there was nothing but smoke, not even the Feds can ignore that."
Not even we had an idea just how fast the wind down would take place. Because shortly after the CVS news hit, virtually every other major pharmacy benefit manager proceeded to quickly sever all ties with Philidor.
But things really hit the fan when Bloomberg reported that "workers at the mail-order pharmacy, Philidor RX Services LLC, were given written instructions to change codes on prescriptions in some cases so it would appear that physicians required or patients desired Valeant's brand-name drugs -- not less expensive generic versions -- be dispensed, the former employees said...  Ex-employees who worked at Philidor in the last two years, and who asked that their names not be used discussing their former employer, confirmed that prescriptions were altered as the document details. They said the intent was to fill more prescriptions with Valeant products instead of generics."
Now this is criminal.
And this is also why, just 5 days after holding a call to "confirms appropriateness of accounting" vis-a-vis Philidor, Valeant has just confirmed all the negative press when moments ago it formally announced it was terminating its relationship with Philidor.
Valeant To Terminate Relationship With Philidor

 

Valeant Pharmaceuticals International, Inc. (NYSE: VRX) (TSX: VRX) announced today that it is severing all ties with Philidor Rx Services, LLC, and that Philidor has informed Valeant that it will shut down operations as soon as possible, consistent with applicable laws.

 

"The newest allegations about activities at Philidor raise additional questions about the company's business practices," said J. Michael Pearson, Valeant's chairman and chief executive officer. "We have lost confidence in Philidor's ability to continue to operate in a manner that is acceptable to Valeant and the patients and doctors we serve."

 

"We understand that patients, doctors and business partners have been disturbed by the reports of improper behavior at Philidor, just as we have been," Pearson said. "We know the allegations have also led them to question Valeant and our integrity, and for that I take complete responsibility. Operating honestly and ethically is our first priority, and you have my absolute commitment that we will make it right."

 

Valeant intends to develop a plan to ensure patients' access to drugs is minimally disrupted. Valeant has informed Philidor that to the extent that managed care plans will no longer reimburse prescriptions in process, Valeant will fill them at the company's expense.

 

"We are committed to doing everything we can to provide important medicines to the patients and doctors who depend on them, and will continue to explore relationships with the full range of pharmacies to ensure patients have access to the drugs they need," Pearson said.

 

In the Third Quarter 2015, Philidor represented 6.8% of total Valeant revenue.
And about 7% of the bottom line.
However, this is bad news for Philidor, which not only confirmed that it had a rogue operation under its control, but perhaps what's worse, said operation was engaging in unpermitted, and as we now know unlawful, activities.
Whether the Fed will buy a defense that "see, they were bad, but we shut them down" is what is on every long's mind, and certainly on the mind of Bill Ackman who picked the worst possible day to hold his own press conference defending his stake in Valeant.
Good luck Bill, at least thanks to today's new what would otherwise be a 300 page slideshow just got cut by two-thirds when all the slides on Valeant had to be ripped out.