Irvine, CA-based Quality Systems Inc. QSII reported first-quarter fiscal 2018 adjusted earnings of 15 cents per share, exceeding the Zacks Consensus Estimate and the year-ago figure by a penny.
Revenues totaled $130.9 million, outpacing the Zacks Consensus Estimate of $127 million. Revenues also increased 7.4% on a year-over-year basis.
Quality Systems carries a Zacks Rank #3 (Hold).
Quarter Highlights
Segment Details: Total software, hardware and related revenues increased 5.9% to $36.7 million, primarily driven by a 20.3% rise in Software-related subscription services. However, massive growth at this section was partially offset by lower software license and hardware sales, which fell almost 13.4% in the quarter. The company expects software license and hardware revenues to remain under pressure for the remainder of the fiscal.
Subscription revenues in the quarter were $23.9 million, up 20% on a year-over-year basis. Revenue growth at this segment was driven by strength in the Entrada, MediTouch and Mirth platforms.
Support and maintenance revenues increased 8.2% on a year-over-year basis to $41.1 million. Professional services increased 31.9% to almost $8.4 million. Coming to Electronic data interchange (EDI) services, revenues increased 5.4% on a year-over-year basis to almost $23.3 million. Meanwhile, the company's Revenue Cycle Management (RCM) business improved 1.7% to $21.4 million.
Solid Recurring Revenue Base: Quality System's recurring revenues comprised contributions from subscription, support and maintenance, RCM and EDI. In the first quarter, recurring revenues of $109.7 million reached a record level of 84% of total revenue. This marks an increase of 9% on a year-over-year basis.
Bookings Update: Quality Systems registered bookings worth $23.5 million in the reported quarter, down by $1.4 million year over year. Per management, the delay in the launch of streamlined and simplified business model of Quality Systems impeded bookings growth in the first quarter.
Margin Details: Quality Systems' gross margin expanded 130 basis points (bps) to $71.8 million in the reported quarter.
Coming to operating expenses, the company recorded selling general & administrative (SG&A) expenses of $43 million, up from $40.6 million a year ago. Expenses increased on incremental personnel costs and debt expenses.
Meanwhile, research and development (R&D) costs totaled $20 million, up from $18.2 million a year ago. R&D expenses rose in the first quarter on the back of the Entrada acquisition and the latest NGA product launch.
Guidance
For fiscal 2018, the company projects revenues in the band of $512 million to $530 million.
Adjusted earnings per share are projected in the range of 62 cents to 70 cents, down from the previously issued band of 66 cents to 74 cents. Management slashed the earnings guidance for incremental investments related to the newly acquired EagleDream Health platform. Furthermore, the company expects sluggishness in its RCM suite of solutions owing to contraction in its customer base.
Quality Systems, Inc. Price and Consensus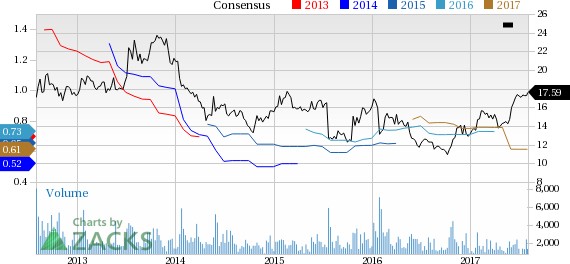 Quality Systems, Inc. Price and Consensus | Quality Systems, Inc. Quote
Our Take
Quality Systems posted a stellar first quarter of fiscal 2018, beating the Zacks Consensus Estimate on both the counts. We are particularly upbeat about the company's solid performance at the total software, hardware and related revenues. Quality Systems' solid recurring revenue base is a key catalyst for the quarters to come.
Quality Systems continues to focus on growing its presence in the Revenue Cycle Management (RCM), population health and interoperability solution markets. However, the ongoing sluggishness in RCM customer base, intensifying competition and a strict regulatory environment are likely to mar the top line. Furthermore, a downbeat guidance signals looming concerns.
Key Picks
A few better-ranked stocks in the broader medical sector are Edwards Lifesciences Corp. EW, Abiomed Inc. ABMD and Fresenius Medical Care Corp. FMS.
Notably, Fresenius Medical Care and Edwards Lifesciences sport a Zacks Rank #1 (Strong Buy), while Abiomed has a Zacks Rank #2 (Buy). You can see the complete list of today's Zacks #1 Rank stocks here.
Fresenius Medical Care represents an impressive return of 2.5% over the last one year. The company delivered a solid earnings surprise of 20.5% in the last reported quarter.
Edwards Lifesciences has a long-term expected earnings growth rate of 15.2%. Notably, the stock has a one-year return of 1.5%.
Abiomed yielded a strong return of 23.4% over the last one year. The stock has a long-term expected earnings growth rate of 30.5%.
More Stock News: Tech Opportunity Worth $386 Billion in 2017
From driverless cars to artificial intelligence, we've seen an unsurpassed growth of high-tech products in recent months. Yesterday's science-fiction is becoming today's reality. Despite all the innovation, there is a single component no tech company can survive without. Demand for this critical device will reach $387 billion this year alone, and it's likely to grow even faster in the future.
Zacks has released a brand-new Special Report to help you take advantage of this exciting investment opportunity. Most importantly, it reveals 4 stocks with massive profit potential. See these stocks now>>
Want the latest recommendations from Zacks Investment Research? Today, you can download 7 Best Stocks for the Next 30 Days.
Click to get this free report
Quality Systems, Inc. (QSII): Free Stock Analysis Report
Fresenius Medical Care Corporation (FMS): Free Stock Analysis Report
ABIOMED, Inc. (ABMD): Free Stock Analysis Report
Edwards Lifesciences Corporation (EW): Free Stock Analysis Report
To read this article on Zacks.com click here.
Zacks Investment Research