Janet Yellen began her 2-day Congressional testimony where she will face questions from panel of congressional members. This is a twice a year event, and the markets highly monitor these hearings for clues on interest rate policy. This time around, the market is projecting a rate hike in mid-2015. Janet Yellen did not provide much information regarding the time-line for the rate hike. Nonetheless, traders put on broad USD-strength. 
The US Dollar Index
shows a rally to a new high on the month. This extends July's rally against June's decline from roughly 81. to 79.75. However, if the USDX pushes toward 80.70, we will basically see an ABC correction. It will be interesting how the market will be toward the USD at that level. If the USDX comes back down below 80.35, we are likely still in a large consolidation period. IF 80.70 is cracked, and price can hold above 80.35, the USD is likely in bullish continuation mode:
USDX 4H Chart 7/15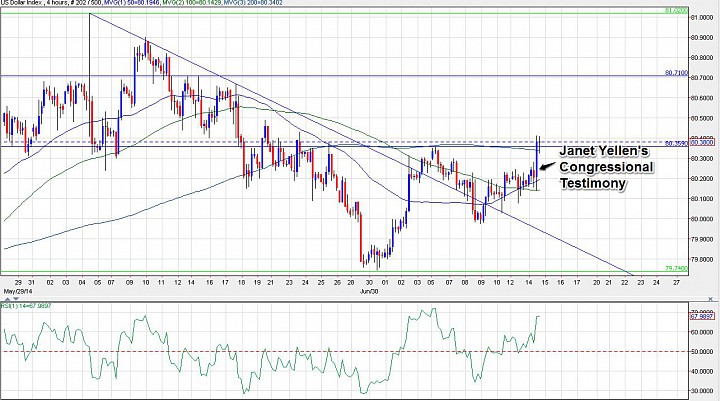 The USD/JPY
is in a bullish correction against not only last week's bearish swing form 102.25 to 101.10, but against a bearish trend in June, coming down from the 102.75 level.  If price rallies to 102, it will be testing a key resistance. June's falling trendline will likely reinforce this resistance. Therefore, a break above 102 after tomorrow's congressional hearing, should open up a bullish outlook toward the July-highs around 102.25 and the June-highs around 102.75.
USDJPY 4H Chart 7/15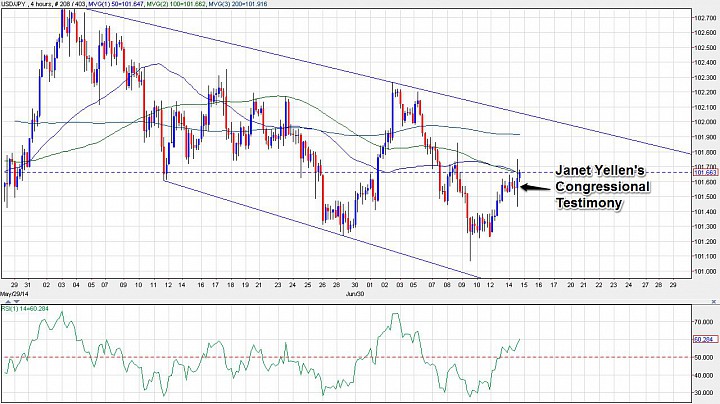 EUR/USD came in the event risk bearish
, and remains bearish after the 1st day. The 4H chart shows the pair dip to new lows on the week. The market looks poised to test the 1.3505-1.3520. lows in June. The 1.3475 level is the low on the year. While price looks bearish in the short-term toward this level. It will be tough to break it without a hawkish USD, which might require Janet Yellen saying the FOMC does NOT want to wait beyond mid-2015, and hint at a possibility of a rate hike even earlier in the year. Poor economic sentiment data earlier in the European session also weighed down on the euro.
EUR/USD 4H Chart 7/15: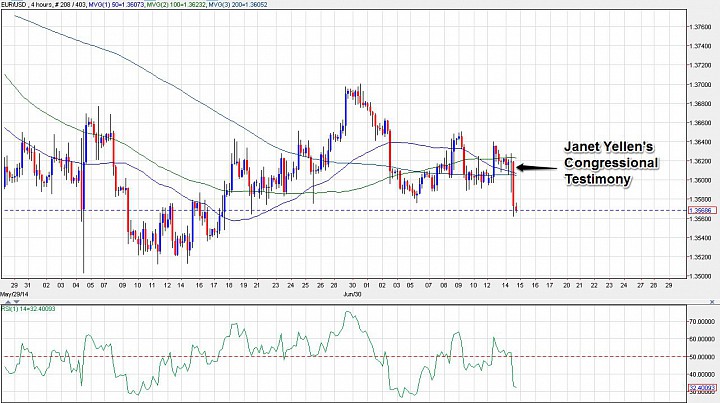 In contrast to EUR/USD, the
GBP/USD came into the US session bullish,
fueled further by hot inflation data for June. The GBP/USD actually broke to a new high on the month and on the year before Janet Yellen stepped up to the plate to answer questions from congressional members. We saw USD strengthen and GBP/USD is pulled back into the broken consolidation. However, if price can hold above 1.71 after tomorrow's conclusion of this event risk, GBP/USD should continue its prevailing trend, with the 1.7337 level (50% retracement of the 2008-dip), in sight.
GBP/USD 4H Chart 7/15