Mining giant Vale S.A.'s VALE third-quarter 2017 adjusted earnings of 40 cents per share surpassed the Zacks Consensus Estimate by a penny. The bottom line also came in higher than the year-ago tally of 19 cents per share.

Shares of the company inched up nearly 1.3%, reflecting investors' optimism after the company released better-than-expected quarterly numbers. It stated that the stellar bottom-line performance stemmed from higher prices, strong volumes (due to robust ramp-up of S11D mine) and lower costs.

Inside the Headlines

Net operating revenues surged 34.6% year over year to $9,050 million. The top-line results were in line with the Zacks Consensus Estimate.

Of the total net operating revenues, sales of ferrous minerals accounted for 75.4%, coal contributed 4%, base metals comprised 19.5%, and the remaining 1.1% was sourced miscellaneously.

Geographically, 10.1% of revenues were generated from South America, 61% from Asia, 6.8% from North America, 15.6% from Europe, 3.1% from the Middle East, and 3.4% from Rest of the World.
VALE S.A. Price, Consensus and EPS Surprise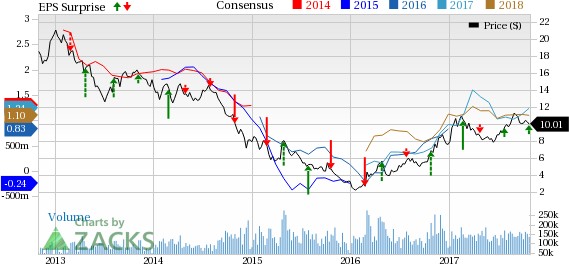 VALE S.A. Price, Consensus and EPS Surprise | VALE S.A. Quote
Expenses
In the third quarter, cost of goods sold totaled $5,412 million, up 24.6% year over year. The upside was stemmed by elevated sales volumes. Gross profit margin came in at 40.2%, expanding 480 basis points (bps) year over year.

Selling, general and administrative expenditure dipped 5.8% to $129 million, while research and development expenses flared up 13.8% to $91 million, both on a year-over-year basis.

Balance Sheet/Cash Flow

Vale exited the third quarter with cash and cash equivalents of $4,719 million compared with $5,369 million recorded in the prior-year period. Net debt in the quarter was $21,066 million, down from $25,965 million witnessed in the year-ago period.

In the reported quarter, net cash provided from operating activities came in at $2,482 million, as against $2,408 million recorded in the year-earlier quarter. Capital spending summed $863 million, as against $1,157 million recorded in third-quarter 2016.

Outlook

Vale intends to deleverage its balance sheet by lowering debt on the back of increased cash generation. By the end of 2017, the company targets to trim its aggregate debt between $15 million and $17 billion.

Zacks Rank

Vale currently carries a Zacks Rank #3 (Hold). The company intends to improve its near-term financial fundamentals on the back of specialized cost-saving plans, productivity enhancement schemes, growth projects and superior mining yield.

However, we believe the declining trend of iron-ore prices might hurt the revenues and profits of mining companies like Vale, BHP Billiton Limited BHP, Rio Tinto plc RIO and Cliffs Natural Resources Inc. CLF. Prices of this major steel making component have dipped nearly 8.6% to $59.29 per ton as of Oct 29. Moreover, stiff industry rivalry and impact of environmental hazards remain major causes of concern.

You can see the complete list of today's Zacks #1 (Strong Buy) Rank stocks here.

Zacks' Best Private Investment Ideas

While we are happy to share many articles like this on the website, our best recommendations and most in-depth research are not available to the public.

Starting today, for the next month, you can follow all Zacks' private buys and sells in real time. Our experts cover all kinds of trades… from value to momentum . . . from stocks under $10 to ETF and option moves . . . from stocks that corporate insiders are buying up to companies that are about to report positive earnings surprises. You can even look inside exclusive portfolios that are normally closed to new investors.

Click here for Zacks' private trades >>
Want the latest recommendations from Zacks Investment Research? Today, you can download 7 Best Stocks for the Next 30 Days.
Click to get this free report
Cliffs Natural Resources Inc. (CLF): Free Stock Analysis Report
VALE S.A. (VALE): Free Stock Analysis Report
BHP Billiton Limited (BHP): Free Stock Analysis Report
Rio Tinto PLC (RIO): Free Stock Analysis Report
To read this article on Zacks.com click here.
Zacks Investment Research