Have you been eager to see how Global Payments Inc. GPN performed in Q3 in comparison with the market expectations? Let's quickly scan through the key facts from this company's earnings release this morning.
An Earnings Beat
Global Payments came out with adjusted earnings per share of $1.15 per share, beating the Zacks Consensus Estimate of $1.03 per share and grew 29% year over year
Better-than-expected earnings were primarily due to higher revenues across its markets.
Global Payments Inc. Price and EPS Surprise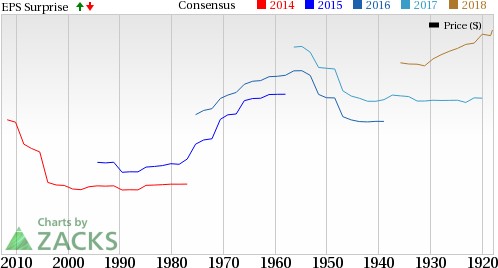 Global Payments Inc. Price and EPS Surprise | Global Payments Inc. Quote
Revenue Increase
Global payments posted revenues of $930.4 million which surpassed the Zacks Consensus Estimate of $913 million and grew 12% year over year.
Key Stats to Note
Total operating expense of $866.4 million increased 4.2% year over year led by an increase in cost of service.
Adjusted operating margin improved 110 basis points to 31.3%.
The company also approved quarterly dividend of 1 cent per share to be paid on Dec 29, 2017.
Guidance Update
Followed by strong earnings performance, the company raised its outlook for 2017 adjusted earnings to a range of $3.94 to $4.02 per share and adjusted net revenues to lie between $3.505 billion to $3.53 billion.
What Zacks Rank Says
Global Payments carries a Zacks Rank #2 (Buy). However, since the latest earnings performance is yet to be reflected in the estimate revisions, the rank is subject to change. (You can see the complete list of today's Zacks #1 Rank (Strong Buy) stocks here).
Check back later for our full write up on this Global Payments earnings report!
Wall Street's Next Amazon

Zacks EVP Kevin Matras believes this familiar stock has only just begun its climb to become one of the greatest investments of all time. It's a once-in-a-generation opportunity to invest in pure genius.

Click for details >>
Want the latest recommendations from Zacks Investment Research? Today, you can download 7 Best Stocks for the Next 30 Days.
Click to get this free report
Global Payments Inc. (GPN): Free Stock Analysis Report
To read this article on Zacks.com click here.