One week ago, after Carl Icahn joined the legion of doomsayers launched in mid-September by none other than the former "balls to the wall" bull David Tepper, we wondered who would be next:
But what does Tepper think? ICAHN SAYS 'IN MY MIND, IT IS TIME TO BE CAUTIOUS ABOUT THE U.S. STOCK MARKETS'

— zerohedge (@zerohedge)

https://twitter.com/zerohedge/status/487318789000683520
On Friday we got the answer, when none other than the ascendant "Bond King", Jeff Gundlach, whose Doubleline Capital just recorded its 20th consecutive month of inflows (contrasting with 29 straight months of outflows for former bond Goliath Pimco) became the latest to join the dark side when shortly after an abysmal payrolls report, he warned that the U.S. equity market as well as other risk markets including high-yield "junk" bonds face another round of selling pressure.
While perhaps not as dire in his outlook as Icahn, Gundlach explained why far from the correction being over, the market still has a long way to go. He told Reuters that "the reason the markets aren't going lower is people are holding and hoping," Gundlach told Reuters in a telephone interview that "the market bottoms out when people are selling and sold out – not when they are holding and hoping. I don't think you've seen real selling in risk assets broadly. Markets need buying to go up and they need volume to go up. They can fall just on gravity."
So after taking a its biggest step lower since 2011 in the past month, why has the selling in the S&P500 stalled? Because, well, hope may not be a strategy but now with the Fed's credibility rapidly evaporating, it is all investors have, or as Gundlach puts it: "The reason the markets aren't going lower is people are holding and hoping." Incidentally, there is a reason why hope is not a strategy: in the end, it always fails.

It's not just stocks that Gundlach is bearish on: he is also not a big fan of junk bonds. "I'll think about buying when it stops going down every single day."
And speaking of the implosion in junk bonds, JPM confirmed as much on Friday when it looked at the latest ICI quarterly worldwide data for Q2'15 which showed that HY ETFs,  which have increased sharply their dominance in the HY space over the past five years, just experienced their largest drawdown ever over the past few months. Since May 2015, 16% (or $6,6bn) of the AUM of HY ETFs was redeemed, which is 1.4x larger than the previous major drawdown of July 2014.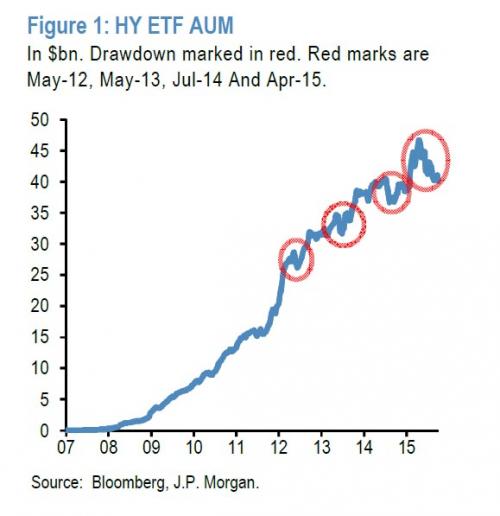 In other words, while investors may be terrified of wholesale sales in stocks just yet over fears such selling will launch a feedback loops where selling begets even more selling, they have no such qualms about junk bonds, which on Friday continued their selloff despite the biggest equity short-squeeze on record.
What does this mean for the big picture?
Back to Gundlach again, whose Los Angeles-based DoubleLine was overseeing $81 billion in assets under management as of the end of the third quarter, said: "Clearly what's happening is people are waking up to the idea that global growth is not what they thought it was."
Gundlach's damning observation on the current state of the world would make him a worth entrant into the "conspiracy theory tinfoil blog hall of fame": "People are acting like everything is great. Junk bonds are at a four-year low. Emerging markets are at a six-year low and commodities are at a multi-year low - same level as in 1995 ... GDP is not growing at a nominal basis."
Even International Monetary Fund Managing Director Christine Lagarde affirmed this, Gundlach said: "You talk about an important moment – when somebody who is traditionally a cheerleader for a bright future says, 'I have to downgrade my global growth forecast,' as Lagarde did."
It gets worse: Gundlach, who has maintained since May that the Federal Reserve will not raise rates at all this year, said the environment feels similar to 2007's, when a financial crisis was brewing.
"People want them (Fed officials) to increase because they think it is a signal that everything is secretly OK. If the Fed raises rates, that means everything is OK. But it is the other way around. If the Fed raises rates against this backdrop, it just makes things worse."
Gundlach's closing observation: "There's going to be another wave down in risk assets and it's happening globally."
Adding it all up: Tepper, Icahn and now Gundlach; not to mention a brutalized hedge fund world which just saw its worst 2 month stretch since Lehman. Oh yes, and Yellen who also several months ago said stocks are overvalued.
Aside from that, just BTFD, because some central bank, somewhere, will surely come to your rescue...