Back on November 19, we told the tragic tale of one Joe Campbell. It went as follows.
In early November, the company which we dubbed as "one of the countless fly-by-night biotech pennystocks", the now infamous drug developer KaloBios Pharmaceuticals said it would wind down its operations and that it had engaged restructuring firm Brenner Group to help liquidate its assets. The company said it was "highly unlikely that exploring strategic options could generate a viable transaction within the time frame, given its limited cash resources.
At that moment the stock was trading between $1-2/share, representing a market cap between $5 and $10 million, or liquidation value.
Then, on the night of November 18 America's "most hated person" and recently charged with stock fraud Martin Shkreli, whose price-gouging antics were the catalyst that unleashed the late summer biotech rout, got involved.
As KBIO announced after the close of November 18, the company "has been informed that an investor group comprised of Martin Shkreli and associates together have acquired more than 50% of the outstanding shares of KaloBios, and that the company is in discussions with Mr. Shkreli regarding possible direction for the company to continue in operation.
The stock exploded higher, and has since hit a whopping $16/share in the pre-market, an increase of over 650%.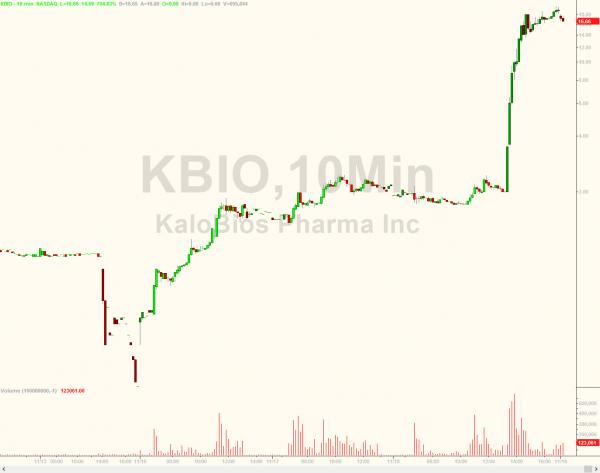 Back then we asked if this is merely "Blatant manipulation? Perhaps - after all, this is not much different from what Oprah Winfrey did with Weight Watchers stock which jumped simply because the media diva had bought sizable stake in WTW stocks. Ultimately, it will be up to the SEC to decide."
It turned out it was the FBI who made the decision less than a month later, and the conclusion was less than favorable to Shkreli.
Where this story got entertaining, or woefully tragic, depending on one's perspective, is that one trader, Joe Campbell, was on the wrong side of KBIO massive surge. One E-trader, Joe Campbell, decided to go $35,000 short KBIO "and now owes $ETFC a wonderful $106K." Campbell provided the following snapshots of his tragedy: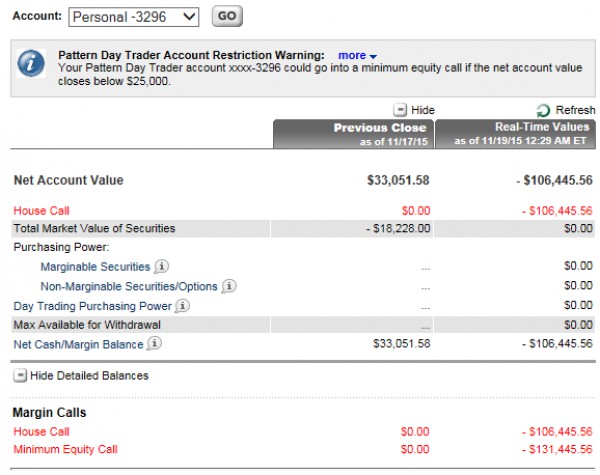 But what brought fame (or perhaps infamy) to Campbell is what he did next: the "devastated" trader became the first, perhaps in history, to launch a GoFundMe campaign seeking to "crowdfund" his $106,445 margin call, in other words to beg online for sympathetic souls to fund his $106K margin call.
It is unknown if he got enough money for the entire margin call: a subsequent update noted that he had managed to collect over $5,000, at which point the grateful Campbell fell off the radar screen.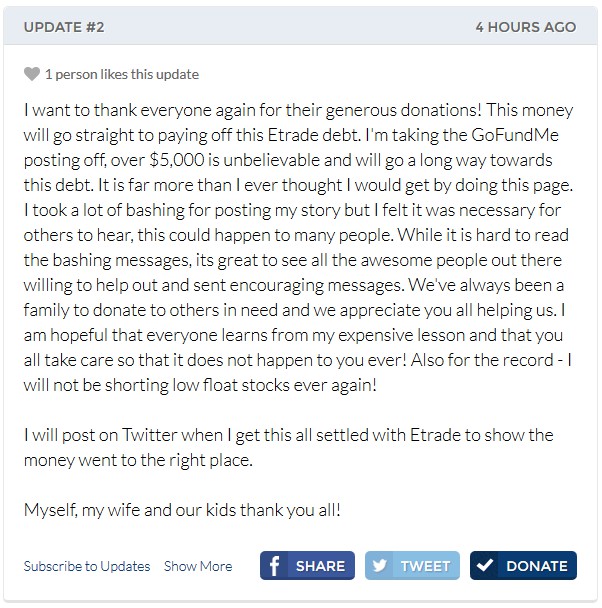 But while Joe's tale ended here (and some have suggested his entire story may also...
More