Remember the days when airlines wooed passengers with glamorous offerings like in-flight dining rooms and onboard pianos? Neither do we. But for every carrier that's skimping on legroom (see American Airlines), another seems to emerge with a swanked-up bar.
Of course, there's a reason you hear less about mile-high bars than cramped economy seats: They're hardly ubiquitous. They're notably absent from the U.S. legacy carriers, which focus more on pay-for-play in-seat drinking. And the airlines that do have dedicated booze spots tend to offer them on only a select few plane types—largely double-deckers or other long-range aircraft.
But the in-flight bar scene is booming. Look no further than Emirates. In July the Dubai-based carrier will unveil a new concept for the Onboard Lounges on its fleet of flagship A380s, serendipitously alleviating the problem of what to do on a long-haul, Middle East-based flight in the aftermath of Trump's electronics ban. The first of these updated bars will feature new seating areas inspired by yacht cabins and Emirates Executive private jets. From there on, they'll be built into each newly delivered A380 rather than retrofitted onto older models.
Granted, Emirates' bars, like nearly all airplane bars, are only available to those sitting in premium cabins. (The second-class denizens on the bottom deck can't even sneak a peek at the cocktail dens up above.) But once you've got access, it's all-you-can-drink—for no extra cost.
So what makes a good airline bar? Square footage is key—and ample seating space. (Nobody wants to topple their bloody mary when turbulence hits.) Design, service, and a full range of premium offerings can also make or break the experience. With that in mind, here's the last word on which airline bar is best.
6. Korean Air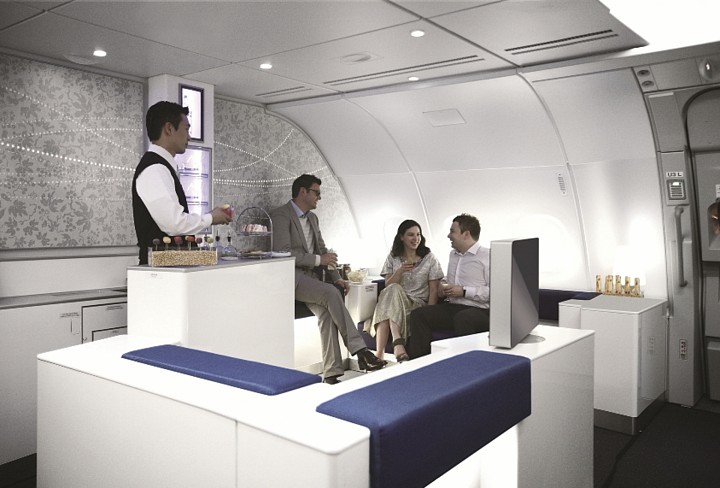 The whimsically named Celestial Bar on the top deck of the Asian airline's A380s is the product of a long-standing partnership with Absolut—which means the drinks are all vodka-based. (Other spirits are kept in the galleys.) Cocktails are made-to-order and served with a rotating mix of canapés and desserts; on our most recent flight, we got tomato mozzarella bites and mini chocolate cakes. And the décor is appropriately starry, with shimmery wallpaper that's...
More