Hogs: Dealing with a logarithmic vs. arithmetic discrepancy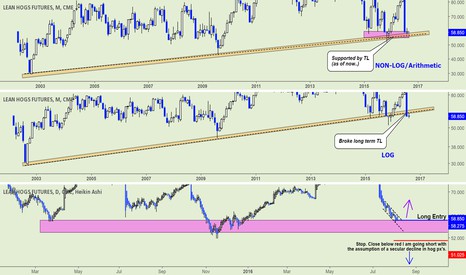 My long trade is the assumption that the breakdown on the log chart is a false breakout. I trade based on LOG almost entirely, but there is a mixed bag of data here that leads me to believe it is worth considering both metrics (log vs arithmetic). Many traders dislike trend lines - this is just one of those reasons among many. The way I deal with these situations is to analyze them horizontally and see which levels are violated from there.

From the horizontal perspective price is at an attractive symmetrical level as shown in purple. I am a cautious buyer here. My stop is relatively wide because $5.4 per pound ($54 per 100 weight) would still register as a buy.