The pharma and biotech industry has been blessed with good health in the first half of the year. After being battered by the drug pricing controversy in 2016, the sector has turned around this year, defying all the uncertainty surrounding the President's proposed healthcare policy. The NYSE ARCA Pharmaceutical Index has risen almost 13% year to date (YTD) after declining almost 10% last year. The NASDAQ Biotechnology Index is up 17.2% YTD after sliding 19.1% in 2016.
In fact, the Zacks Classified "Drugs" sector is up 10.3% YTD, having outpaced the 8.3% gain for the S&P 500.
Impressive Q1 & Generous FDA
The first half has been pretty strong for pharma/bitech companies. First, Q1 results mostly bettered both earnings and sales expectations. Also, sales of newer drugs are ramping up, somewhat making up for the genericization of key drugs. The pipelines are evolving with significant progress on the development of new drugs. Companies are extending their R&D pipeline to newer categories like NASH, Parkinson's disease and gene therapy.
Meanwhile, there have been many more FDA drug approvals this year than in 2016. So far this year, a total of 23 drugs have gained FDA approval, beating the total of 22 for the whole of 2016. With the drug approval process expected to expedite, more innovation and a surge in new drug approvals is being looked forward to.
The sector does have its share of challenges in the form of rising competition, high profile pipeline setbacks, slowdown in growth of mature products and loss of exclusivity for certain key drugs. The drug pricing issue remains a headline risk this year too.
Nonetheless, impressive clinical trial results, pipeline innovations, new drug approvals, continued strong performance by legacy products and rising demand are some of the factors that promise a sustained recovery in the sector. Tax reforms as well as cash repatriation would support a recovery as well.
Though M&A activities and collaborations/deals have slowed down this year, chances are that they will pick up in the second half. Then again, the number of deals will still be less than the pharma industry, as it has been for many years.
Finally, the Republican administration's vow to "repeal and replace" Obamacare bodes well for the sector's growth.
Key Picks
Given this scenario, 2017 might be the perfect time to dip your toe into this growing market. Here are three big pharma/biotech stocks that are top ranked and can prove lucrative for your portfolio.
AstraZeneca plc AZN
AstraZeneca carries a Zacks Rank #2 (Buy). This London-based pharma giant boasts a strong product portfolio and is one of the key players in the global cardiovascular market. It has been proactive on the acquisition and partnering front and expects to continue pursuing accretive deals. Newly launched drugs should keep contributing to the top line and ease the impact of genericization. Meanwhile, cost-cutting initiatives should drive the bottom line. Streamlining operations, along with focus on R&D, should benefit the company in the long run. AstraZeneca has a promising late-stage pipeline that includes immuno-oncology candidates. To top it all, the company expects a lot of activity on the regulatory and pipeline front this year.
AstraZeneca's earnings estimates for 2017 went up 3.4% while that for 2018 moved up 2.2% in the past 90 days. Its earnings performance has also been pretty impressive, with consistent positive surprises. The average earnings beat for the last four quarters is 142.6%.
Shares of AstraZeneca have risen 25.7% so far this year, outperforming the gain of 13.8% for the Zacks classified Large-Cap Pharma industry.

Sanofi SNY
This Zacks Rank #2 stock has risen 21.9% this year, also outperforming the Large Cap Pharma sector.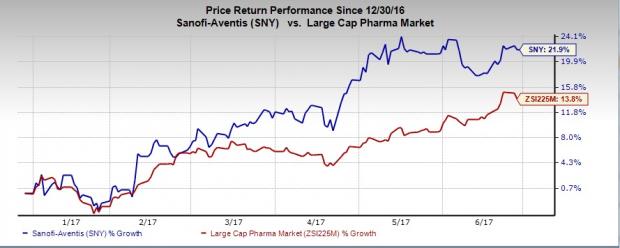 Sanofi's earnings estimates for 2017 have gone up 6% while that for 2018 has moved up 1.5% in the past 60 days. Sanofi's earnings performance has also been pretty impressive, with steady positive surprises. The average earnings beat for the last four quarters is 5.10%. Strong quarterly results and back-to-back product approvals have led to upward estimate revisions.
Sanofi possesses a diversified product portfolio. It has a presence in several therapeutic areas including cardiovascular diseases, diabetes, oncology, and central nervous system disorders, among others.
Important pipeline drugs of the French drugmaker — Dupixent and Kevzara — have been approved or launched this year. These have the potential to boost sales in the next few years.
Meanwhile, Sanofi has several new products in its portfolio and candidates in its pipeline that can contribute to growth in 2017 and beyond. Products like Aubagio and Lemtrada (multiple sclerosis) have been doing well and the trend is likely to continue.
Regeneron Pharmaceuticals, Inc. REGN
Regeneron's earnings estimates have risen 3.4% for 2017 and 11% for 2018 over the last 60 days. Shares of the company have risen 39.8% so far this year, outperforming the Zacks classified Medical - Biomedical and Genetics industry which has gained 8.8%. Regeneron sports a Zacks Rank #1 (Strong Buy). You can see https://www.zacks.com/stocks/buy-list/?ADID=zp_1link&ICI... _1link">the complete list of today's Zacks #1 Rank stocks here.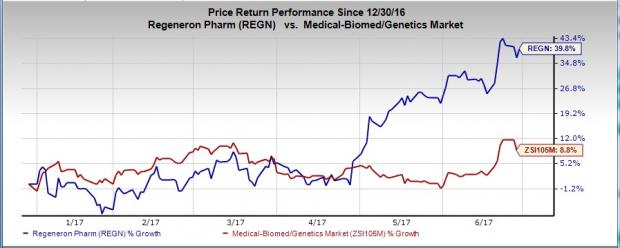 Regeneron's key growth driver, Eylea, continues to drive revenues and it is expanding the drug's label for additional indications. The FDA's approval of Dupixent was a major boost to the company's portfolio and Regeneron is evaluating the drug for additional indications like asthma. Recently, Kevzara (sarilumab) for the treatment of moderately-to-severely active rheumatoid arthritis was approved in the U.S. & EU, thereby diversifying the company's portfolio.
Today's Stocks from Zacks' Hottest Strategies
It's hard to believe, even for us at Zacks. But while the market gained +18.8% from 2016 - Q1 2017, our top stock-picking screens have returned +157.0%, +128.0%, +97.8%, +94.7%, and +90.2% respectively.
And this outperformance has not just been a recent phenomenon. Over the years it has been remarkably consistent. From 2000 - Q1 2017, the composite yearly average gain for these strategies has beaten the market more than 11X over. Maybe even more remarkable is the fact that we're willing to share their latest stocks with you without cost or obligation. See Them Free>>
Want the latest recommendations from Zacks Investment Research? Today, you can download 7 Best Stocks for the Next 30 Days.
Click to get this free report
Sanofi (SNY): Free Stock Analysis Report
Astrazeneca PLC (AZN): Free Stock Analysis Report
Regeneron Pharmaceuticals, Inc. (REGN): Free Stock Analysis Report
To read this article on Zacks.com click here.
Zacks Investment Research