Irrationality always seems to be associated with "euphoria." It is also there when "fear" is present as well.
The stock market correction everyone was looking for is here, and now no one wants it.
There is no "recession" in the offing.
The S&P 500 is one of the most attractive asset classes in the world at current valuations.
"As I look back on it now, it's obvious that studying history and philosophy was much better preparation for the stock market than, say, studying statistics."
In my investing career I have found those words to ring true. What's true of life is also true of investing. Mr. Lynch followed up by saying:
"all the math you need in the stock market you get in the fourth grade"
Regular readers know that I often look back and cite prior trends and patterns along with historical data to assist in formulating an opinion to aid with my investment strategy. Going back and reviewing "history" can reveal quite a bit of what may take place in the future.
But before you can put your money to work effectively, you need something even more fundamental to your success, a philosophy of investing. It is important because an investor can define their philosophy by a conscious, rational, disciplined process of thought, OR one can let their subconscious accumulate a junk heap of unwarranted conclusions.
Investing is serious business. Getting it right is the difference between a retirement spent in comfort, or luxury and spending your golden years counting nickels, worrying whether you will have enough.
Reaching financial independence is a serious goal, one that should be pursued in a disciplined, rigorous way. I always recommend that investors dedicate some serious time to formulate their philosophy. Last week I mentioned how investors and their respective strategies were currently being tested. If I thought the prior week was a test, then what transpired on Monday August 24th was the final exam.
The fear that gripped the market this past Monday morning, suggested it was time to put that philosophy to work. Those that had their plan together were well equipped to take advantage of the wild, irrational behavior that took place.
I will stay with the words of Peter Lynch and keep the historical perspective as the 'theme" for this week.
The recent rapid decline in the U.S. equity market as well as other markets around the world have investors wondering if the current six-plus year-old bull market for U.S. stocks is coming to an end. My "base case", as I laid out in a prior article, suggests that this bull market is not over. However, I would be remiss if I did not point out some of the "chinks in the armor" that cannot be ignored. More on that later.
I would agree with those calling for a more serious decline, that IF the current market fears regarding global growth are realized, and many economies in the world fall into recession, the odds of a bear market will become very likely. At the moment, I believe it is a quantum leap to form that conclusion, NOW.
Therefore, even if the current market angst over China and global growth really is the trigger for the next bear market, it will be months or more before this is truly known. In the process of delivering this message, the market is likely to sell off, and then rally, such as it is doing right now. It may even post a new high. As time goes by, if data continues to point to China or the other emerging economies as problematic issues, this cycle is likely to happen numerous times.
I am of the opinion that this current sell-off will likely find a bottom. It may already have and a counter trend rally should occur, and that may well be underway. The level the market reaches during the rally phase, and the type of additional data points that develop, will chart the course of this current bull market.
It doesn't take a room full of market technicians to tell you that the S&P 500 reached oversold levels. What is noteworthy, however, is that some of the measures of oversold readings reached levels last seen in 1987 and 2009. Ladies and gentlemen, this isn't 1987 nor is it 2009 in any way, shape, or form.
It has certainly been a wild few days for anyone with exposure to the equity market, and if you think volatility is suddenly going to start dying down and get back to the way things were a couple of weeks ago, you are likely to be disappointed.
It is worth going back into history to note what transpired after these oversold extremes were reached. The S&P 500's performance over the following week, month, and three months, show us that the average was mixed and volatile with big swings in either direction.
Looking out six months, however, the S&P 500 was positive every time for an average gain of 9.74%. An historical perspective to put on the table for making the case for that counter trend rally. One that the Bulls would like.
Up until the latest bout of volatility, we really have been in a "nowhere" market. There are four previous periods where the S&P 500 traded in a six month range of 6% or less.
The interesting question is where do these narrow trading ranges fit into the scheme of these other bull markets. Were they early on, in the middle of, or did they mark the top of a bull market?
According to Bespoke, three of the four range bound periods occurred in the later half of a bull market, but none of the range-bound periods marked the actual top. Another possible bit of history to suggest that a strong counter trend rally is what may be in store.
On a calming note, here is a missive from Cam Hui who describes what investors need to do now, Relax and have a glass of wine. It is a solid assessment of where the market is and what investors need to concentrate on.
THE FED
Historical notes on how different asset classes react after they begin raising rates for the first time. A synopsis of sorts to help with that anxiety issue and some food for thought.
Commodities were the best performing asset, they thrived nicely. The dollar sold off. Equities usually rallied into the decision, then sold off, and then rallied again. Treasury yields rose. The total return for high yield bonds was usually positive.
(click to enlarge)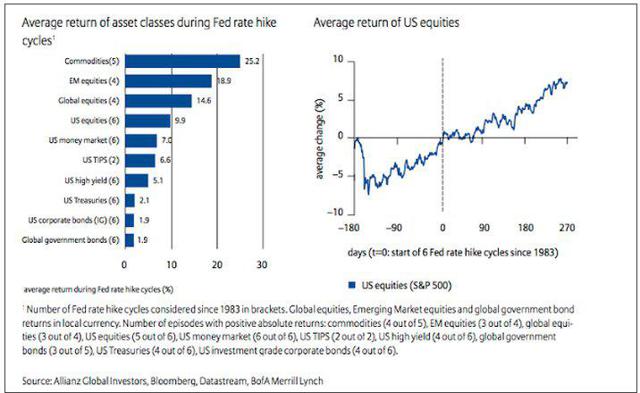 The chart above covers the period after the first rate hikes in 1983, 1986, 1988, 1994, 1999 and 2004.
This snapshot meshes with what I presented last week about rates and the reaction that takes place with the USD after rate normalization begins.
However, when looking around the landscape now, things are quite a bit different.
In all 6 cases, US equities rose in the 3 months ahead of the first rate hike, so far that is not the case.

Yields were flat or rising in the 3 months ahead of the first rate increase. In contrast, 5, 10 and 30-year yields have now declined over the past 3 months, and 2 year yields are flat.

As shown Commodities do well. History reveals that commodity prices had already been rising ahead of the first rate increase. That is surely different now.
(click to enlarge)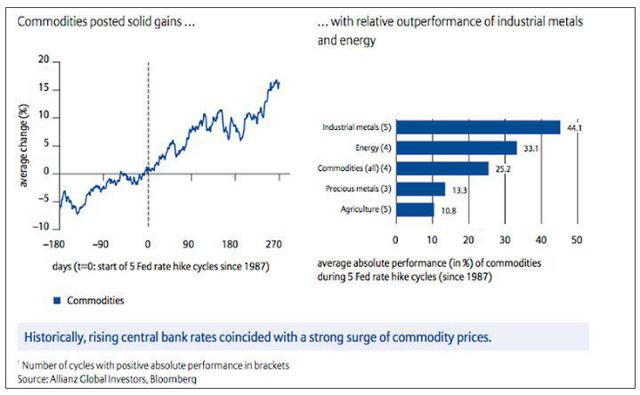 Perhaps the biggest difference is these comparisons. Rates normally rise within 18 months after a stock market drop or economic weakness caused them to be lowered.
Now, the last time rates changed is almost 9 years ago. It does make an investor wonder if some of this historical data that is presented, will react in the same way as in the past because of that. At the moment, it sure doesn't look that way.
There is always a crowd of people that will tell us all how a recession is right around the next bend. A summary of what has been presented here in the last few weeks paints a much different picture.
Existing home sales are at their highest level since 2007. The same goes for housing starts.

Jobless claims are near 40-year lows even without adjusting for a drastically larger population and labor force. 2.9 million jobs have been added in the last year at a growth rate of 2%.

Auto sales are sitting near all-time highs.

Consumer debt is falling as a percentage of income and debt service payments as a percentage of disposable incomes are at all-time lows.

The government deficit is narrowing, banks have been re-capitalized and deleverage (and are lending at robust rates), and consumer confidence sits near post-recession highs.
Bottom line, economic data doesn't suggest a recession is in the offing.
History also tells us that major U.S. bull markets have at least two predictable conditions prior to marking a top. The long-term yield curve, the 30-year versus the 10-year, inverts and investment spending reaches 27% of GDP. It currently is at 23%. So neither condition is present at the moment.
However, with the irrational behavior that has taken over, none of that or any historical perspective seems to matter at present. In my view, there are plenty of data points to "worry" about - an impending recession isn't one of them.
To that end, the revised 2nd quarter GDP came in at 3.7%, a higher rate than what was anticipated. The biggest driver was investment, but all four major components of GDP: consumption, investment, trade, and government, all contributed to the upgrade in growth. This was a welcome sign that activity continues at a robust pace across the entire American economy, despite major pressure from the energy sector investment scenario and a stronger USD.
For the Fed watchers, that brings back the possibility of a rate hike in September. The stock market traded much higher Thursday on that and other news. Maybe the fed watchers are now more content with rate normalization taking place. Is it possible the crowd has finally realized a rate hike is a good sign that the economy is firmer?
The physical weight of goods carried by the nation's trucks increased 3.7% in the year ending July. This is also a pretty good indication that the economy is growing. As the chart below shows, truck tonnage correlates reasonably well with the real value of U.S. equities.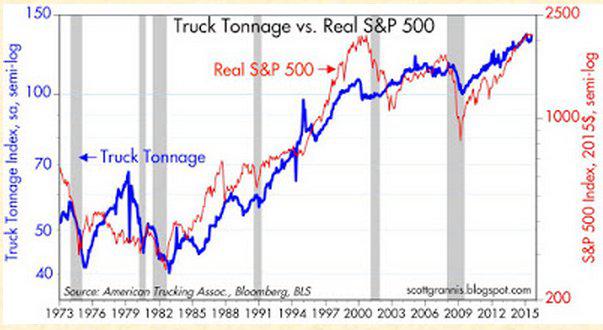 "As the economy expands, real stock prices increase, which makes sense. The modest increase in truck tonnage in the past years suggests that the stock market is not in a bubble (either undervalued or overvalued), and is likely to increase modestly for the foreseeable future."
The U.S. Housing news continues to be upbeat as the July New home sales were up again in July. The reality of near recovery highs in new home sales coming in at a seasonally adjusted average rate of 507,000 and 25% gains year over year is impossible to point to as a sign of a weak housing market.
Consumer confidence didn't disappoint as the index hit a seven month high in August.
Richmond Fed Manufacturing and Services data was released this week and the bears were jumping for joy over the news. The Composite Index dropped 13 points to 0 from last month's 13. Investing.com had forecast a decrease to 9.
Let's take a look at the data, before we jump to conclusions. Because of the highly volatile nature of this index, many if not all economists include a 3-month moving average to facilitate the identification of trends, now at 6.7, indicating expansion.
The report can only be described as a tale of two sectors. The bottom line is that this survey reinforces the impact of the oil selloff and dollar rally. The manufacturing sector that relies more on investment in capacity for drillers or the export sector was crushed. Meanwhile Services, which is almost exclusively domestic or when sent abroad are extremely high value add and carry pricing power, are the picture of health if not an outright boom in economic activity.
Durable goods blew away expectations this week. I have noted that economic data has had a strong tendency to come in above expectations in the summer months since the last recession, so I don't want to get carried away with how strong this report was. It is impossible to see anything outright negative in it with respect to economic activity in the United States.
Chicago PMI did not disappoint economists on Friday as the report came in at 54.7 versus an expected level of 50.7 for July.
The economic data is starting to firm up and improve nicely, just as it at this time last year.
Forward 4-quarter earnings estimate for the S&P 500 fell to $124.01 this week, down from $124.06 last week and $125.10 as of the week of July 24, 2015.
The P.E ratio on the forward estimate is 15.9(x).
The PEG ratio is still negative.
The "earnings yield" on the S&P 500 jumped to 6.29% this week from last week's 5.93%, thanks to the quick drop in the S&P 500.
Going forward, the drag from the energy sector will start to "lighten up" as the "comps" start to get much easier. In addition, I still expect to see the multi nationals "adjusting" to the strong USD and believe the overall effects of that drag will also be much lighter.
Here is more evidence of how many are shunning U S stocks.
From that missive:
"During the past 10 ½ years, U.S. investors shoveled almost $1.2 trillion into international equities, while withdrawing a net $9.8 billion from U.S. equity funds and ETFs. That means that on balance investors haven't put a dime into U.S. stock funds since 2005. Talk about a lost decade!

How did that work out? From January 2005 through August 17th, the MSCI EAFE Index, of non-U.S. developed market stocks gained 1.6% a year.

The MSCI Emerging Markets Index, rose 3.3% annualized over that time.

Meanwhile, the Wilshire 5000 Total Market Index, gained 7.4% a year, the S&P 500 Index, rose 7.7% a year and the Russell 1000 Index advanced 8.1% on an annualized basis over those 10 ½ years.

In short, U.S. stocks wiped the floor with international stocks even though investors avoided them like moldy bread.

So what does that tell us about now?

"U.S. stocks are the most hated asset class," said Morningstar's Strauts. "No one likes them, but they have performed very well."
The same sentiment is also prevalent among Hedge Fund managers. The last two bouts of bearishness by macro managers preceded rallies.
So where has the money gone ? It seems a lot of it has found a home here as many have gone to cash.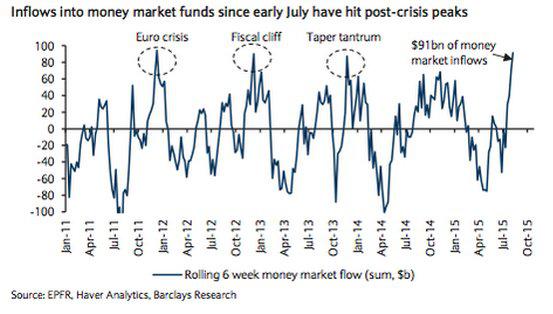 (click to enlarge)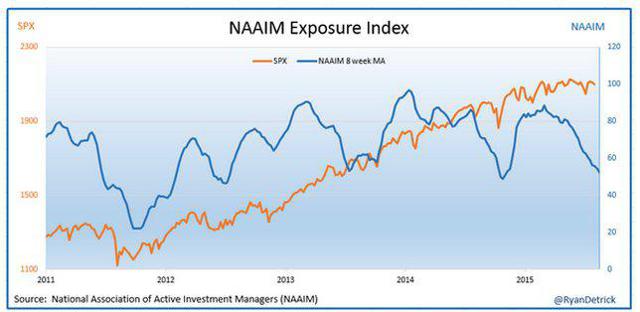 Just when I thought I had enough evidence to show how the general public feels about U.S. equities, there is more.
August 27th; Investors in U.S.-based funds pulled $17.8 billion out of stock funds in the week ended August 26, marking the biggest weekly outflows since mid-December of last year, data from Thomson Reuters Lipper service showed this past Thursday.
Funds that specialize in U.S. shares posted $11.7 billion in outflows to mark their biggest withdrawals since early May, while funds that specialize in non-U.S. shares posted $6.1 billion in outflows to mark their biggest withdrawals since January 2008.
Stock exchange-traded funds posted $15.2 billion in outflows, while stock mutual funds posted $2.6 billion in outflows. Taxable bond funds posted $2.6 billion in outflows after attracting $606 million in inflows the prior week. (Reporting by Sam Forgione)
This data point might well explain all of the recent weakness at the close of the markets recently, as institutions are liquidating stocks to raise cash to accommodate these massive withdrawals.
As mentioned last week, there have been extensive streaks registered in the investment sentiment arena. The current streak of bullish sentiment being below 40% for 25 or more weeks is extremely rare.
Data gleaned from Bespoke:
There have only been three other periods since data began in 1987 where we saw streaks of 25 or more weeks. The first began in August of 1990 with Iraq's invasion of Kuwait, and lasted 27 weeks through Desert Storm in early 1991. By the time bullish sentiment got back above 40%, the market had already started to rally, but from that point forward the S&P 500 rallied an additional 15.3% over the next year.
The only other two periods where bullish sentiment was below 40% for 25 or more weeks was in 1993 and 1994. Sentiment was below 40% for 28 weeks. Here again, the market rallied before sentiment got back above 40%, but from there the S&P 500 declined 1% before the next streak of sub 40% readings began in March 1994. Following that 25 week streak which ended in August of 2015, equities rallied 19.7% in the next year. Based on the limited history, when sentiment does start to finally improve after a long period of pessimism, the market typically sees positive returns.
I continue to mention these sentiment data points as many are disdaining the U.S. equity market, while I see article after article telling investors that we have seen THE TOP. History tells me that doesn't compute as this Is NOT the type of behavior and sentiment that marks a market top.
There is plenty of ongoing discussion on whether the collapsing price of crude oil and energy sector earnings will spread to the rest of the economy.
I have been in the camp that I just don't see this situation as a contagion and the following missive from Scott Grannis puts a lot of this in perspective.
Finally, a nice rebound in the price of WTI on Thursday as the price of WTI surged 10.2% on the day. Perhaps the 3.7% GDP print was a sign that the U.S. and world economy isn't going into recession and lifted traders spirits. It is too early to confirm if we have seen a true "undercut low" below the March bottom. For the undercut low to be confirmed, oil needs to hold above that $41 - $42 mark now and not retreat back down. Otherwise, this rally will more than likely be an oversold, throwback rally back up to resistance (the March lows), and lower prices would be expected in the short term. Friday's closing price of ~$45 bodes well for a "real" change in trend.
Some history to ponder. The last 10% plus one-day rally for oil was 3/12/09. I will give readers only one guess as to what happened after that. Might history repeat?
Some of the data here in the U.S. brings up a point or two about our economy and the demand for crude oil here as well.
"We're 24 weeks into 2015, and we have averaged 19.51 million b/d of oil consumption. By comparison, in the first 24 weeks of 2014, we averaged 18.69 million b/d, versus 18.45 million b/d in 2013. U.S. oil demand is staying higher for longer. For the first 24 weeks of the last three years, we have seen just 6 weeks below 19 million b/d in 2015, compared to 19 weeks for 2014 and 22 weeks in 2013. Year-over-year, U.S. oil use in 2015 is up 820,000 b/d, with gasoline accounting for 34% of the increase, diesel fuel 19%, and jet fuel 13%.
This week, the emphasis will be on the longer term picture, when considering where the markets stand from a technical perspective.
After the dust settled after the carnage on Monday, the Dow Transports and the Dow Industrials closed below their respective October 2014 lows. For those that have followed my thoughts know that I have often referred to the Dow Theory Buy signals that were flashed throughout this entire rally. The close on Monday gave a Dow Theory "Sell signal". So where does this leave us?
History reveals that the only "false" Dow Theory "sell signal," according to my interpretation of Dow Theory, came on May 6, 2010, which was the last time the Dow lost 1000 points on an intraday basis. That "sell signal" was quickly reversed in June of 2010. It is possible that will be the same case here.
The quality of any ensuing rally will be VERY important to reverse yesterday's Dow Theory "sell signal." But, until it is reversed, it is something to observe and monitor as time goes on.
The upside prices for a reversal for yesterday's Dow Theory "sell signal" are much higher than market participants want to anticipate currently. Indeed, they are thousands of points above where we are now.
Given that backdrop, it is worth noting that of all the bull market peaks, the only two that have NOT retested the bull market highs have been in 1990 and 1998. That bit of history lends credence to the thoughts that if we do get a strong counter rally, this signal will be reversed.
At the moment, I do NOT think we are about to enter into a secular bear market, despite the Dow Theory "sell signal". However, to dismiss the warning, citing any excuse one can come up to wish it away would be irresponsible. I do respect these signals; they saved me a lot of pain and money in 2000 and 2007.
Therefore, while I think we are close to a short term "trading" bottom, I will remain alert and cautious, like I was at the Dow Theory "sell signal" of November 2007 as well as like I was with the Dow Theory "sell signal" of September 1999.
Speaking to those two market tops brings me to yet another "signal" that I used to prepare for the declines that followed those events.
A MONTHLY chart of the S&P 500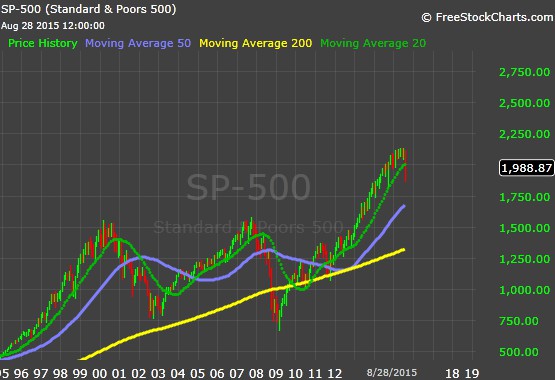 As I wrote back in July of 2013, this "technical" event "prepared" me for what was to eventually come in the equity market. Looking at the long term "MONTHLY" S&P chart reveals that the 20-month moving average has now been violated.
It is noteworthy, and it is a situation that has to be monitored closely. This indicator can easily be reversed if the S&P travels back above the MA, in this case a decisive close above S&P 1992 will do the trick. More importantly, it will be critical to see IF the S&P 20 Month MA starts to level out and then take a dip. Since this is a monthly average, these events will take place over a decent amount of time.
As I indicated in the first missive on the use of this indicator, there is plenty of time for an "investor" to prepare, and if necessary, take defensive measures. Simply note that in each case after a decisive break of the MA, the market then rallied back to that MA, and when it failed back in both 2000 and 2007, it then signaled what was to eventually take place.
At this very moment, a caution flag has been put up, but by no means does that mean the bull market has officially ended.
The sideways action for the markets for the better part of this year has culminated in quite a bit of technical damage to a broad basket of stocks and the indices themselves. Repairing this technical damage does not occur overnight.
The bottom may or may not be in this latest spate of market weakness, no one can tell for sure. I will still lean to a scenario that suggests it is unlikely we enter a bear market and a true stock market crash. That said, the issues I brought to the surface after the selloff was too striking for me to ignore, and I felt it necessary to share.
When the market is acting irrationally and it seems like things are just spinning out of control, it becomes difficult to focus and avoid any overreaction without first "investigating" what is happening around you. With some time over last weekend I was able to put together a brief scenario of the market action which led up to this past Monday's 3.75% sell off in the S&P and Dow 30. This allowed me to put together cogent thoughts on the market action rather than overacting.
On Thursday August 20th, the market had a gap down opening and closed BELOW (2035), the crucial six month support level at S&P 2040. For sure, that kicked off initial sell programs. The market tumbled during Friday's options expiration, and this time closed right at a good support level of 1970, the site of the December 2014 lows.
During last week's update, I cited additional levels after the close on Friday August 21st that could provide support. One (1956) by one (1929) they were quickly dispatched within minutes and hours, not days, once the 1970 support was history before the open. Once more, the sell programs kicked in with all of the triggers now telling the automated systems to liquidate. When the dust cleared on Monday, I was left with the final support zone of 1820, the site of the October 2014 lows.
Irrationality and volatility ensued with 2 and 3% moves being the norm, and when all was said and done, the S&P finished on an upbeat note the week at 1988.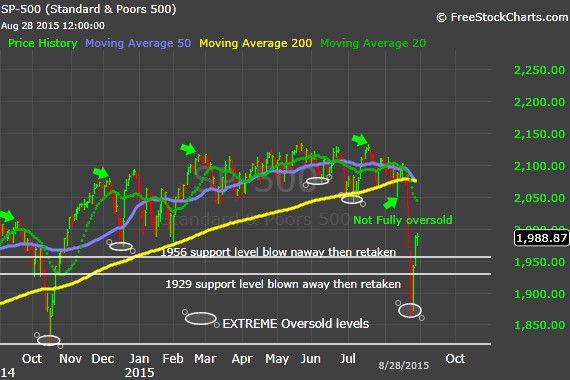 First, please note the new oversold condition that I posted on the chart. Second, the possibility of a double bottom that was put in place on back to back days, residing at S&P 1867.
As quickly as they were taken out on the downside, the ensuing rally pushed the average past the original support levels of 1973 and 1956 and 1929. Those levels are now reactivated as areas of short term support.
During this "irrationality", the S&P lost 186 points in 3 days; if you were paralyzed, you weren't alone.
The sell-off of the last ten days has been incredibly painful on anyone who is long equities, and for those who are long, the question is should I sell now or hold on?
Obviously, every investor is different, and if the volatility and sell-off is causing you an undue amount of stress, you were probably too long in the first place.
For longer-term investors who can withstand what is likely to be some additional volatility and possible further declines, in the past it has paid to ride out these levels of extreme oversold levels. Unless you have a compelling reason to think that this time will be different, it will more than likely pay off this time around as well.
Market participants should keep in mind that with in-depth research, some of the equities that were thrown away may offer investors attractive entry points to begin building long equity positions.
At the moment, the S&P is in "No Man's Land", but the ensuing rally after all of the madness that started the week does not hurt the long term bull story here at all. Given the fact that crude oil has firmed up, the energy sector may now get more of a bid and assist in keeping the S&P on firmer footing.
Stock market corrections are healthy, and as I look around, I still think the S&P 500 is one of the most attractive asset classes in the world at current valuations.
This past Monday morning was certainly a stock market opening that few will forget, as prices on some individual names plunged 15-20% at the open. During the irrational sell off, I stepped in and purchased more shares of (AAPL), (GILD) and (VZ).
Looking back, there were so many stocks that were thrown away at the open, it was just too difficult to gather thoughts and react quickly enough. One name that has surely been tossed aside even before the wild selling is Disney (NYSE:DIS)
When I look at what has happened to the shares of Disney, I revert back to my mantra, "Good companies will eventually get it right."
Such was the case with TGT after their credit breach issue. Then the Costa Concordia mishap and CCL. These names all sold off, then 9 - 12 months later, they were at new highs. I employed that strategy in December of last year when I added MCD, when everyone hated the stock. Same thought, MCD will get back to business and get it right.
DIS is now down from a high of $122, to the August 24th crash lows of $89 and has settled here in the $100 area.
The "issue" seems to be an overreaction to the future value of their media programming divisions. Investors shouldn't lose sight of the fact that attendance at U.S. Disney theme parks grew 4% in Q2 and spending per person was up 2%. Also, there are new opportunities on the horizon for the company. In my view, they will get it right and prove to be a good long term value that is being presented to us.
Irrationality is often associated with "euphoria". The "Irrational exuberance" quote from Greenspan always comes to mind. Don't lose sight of the fact that irrationality is also quite evident when "fear" is present.
While the headlines are telegraphing a "crisis" like we are witnessing with the "China" and "energy" issues, it pays to remain calm, focused, and look for the opportunities that irrational behavior can produce.
Keep in mind the old adage;
"The stock market is the only place I know where when things go on sale, no one shows up."
There are some conflicting signals for sure. On the one hand, I cite the facts that have been stated in recent weeks, months and including today about the positives in the economy here in the U.S. In addition, other indicators that would signal a recession are also NOT present.
Sentiment levels and more importantly investor positioning are at levels that are NOT indicative of a market top. That brings me to what I stated last week. No recession equals no bear market. Leaving us with corrective phases to deal with. That is what many were calling for and what we are witnessing. Of course, now that we have seen it, no one wants it, and many now state that it is the start of something much more dire for the equity market.
There is nothing, nothing that I have seen with this fundamental backdrop, whether it be Chinese fears, positioning, valuation, or any other factor, to suggest that we are indeed headed into a bear market.
The other side of the coin shows that without a doubt, there was severe "technical" damage done to the equity market. That leaves an investor to wonder if there are now signs that the market is telling us something and there may be a possible "issue" for investors to deal with down the road.
My strategy at the moment, stay tuned and stay the course. I have NOT changed my strategy nor have i changed my equity market positioning.
Best of luck to all!
More