Nasdaq, Inc. NDAQ has reported mixed volumes for second-quarter 2017. While the U.S. equity options volume surged 75% year over year to 386 million contracts, revenue per contract was 15 cents, down by a penny on a year-over-year basis. Market share jumped to 41.4%

European options and futures volumes have, however, decreased 18% year over year to 22.2 million contracts in the second quarter. Revenue per contract was 39 cents, up 4 cents on a year-over-year basis.

Under its cash equities, Nasdaq's U.S. matched equity volume in the second quarter totaled 79.3 billion shares, down 1.5% from the year-ago quarter. While the European equity volume increased 7.3% year over year to $220 billion. Again, the U.S. Fixed income volume in the second quarter decreased 9.5% year over year to $4.8 billion, the European fixed income volume on the other hand was 7 million contracts, up 25% year over year.

Despite the weakness in equity trading in recent years, Nasdaq's organic growth has been aided by its strategy of accelerating its non-transaction revenue base, which includes market technology, listing and information revenues, plus management's medium-term outlook calls for mid-single digit growth over the next three to five years.

In the second quarter, there were 3,512 listed companies on Nasdaq compared with 3,464 in the year-ago quarter. Total listings improved 3.1% over the year-ago quarter to 3,857.

Year to date, Nasdaq's shares have gained 6.2%, underperforming the 13.2% increase of the Zacks categorized Securities Exchanges industry. The stock has been witnessing downward revisions in estimates over the last 60 days. The company is set to report the second quarter earnings on Jul 26, before the market opens. Our proven model states that the company is poised to deliver another quarter of earnings beat. This is because the company has the right combination of a favorable Zacks Rank #3 (Hold) and an Earnings ESP of 4.76%.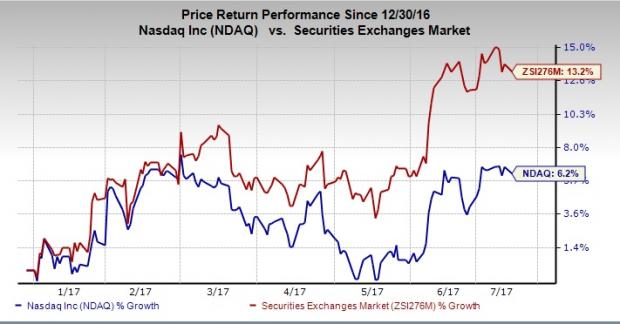 You can see https://www.zacks.com/stocks/buy-list/?ADID=zp_1link&ICI... _1link">the complete list of today's Zacks #1 Rank (Strong Buy) stocks here.

Concurrently, the company had reported improved Jun 2017 volumes, reflecting an increase in trading activities. The U.S. equity options volume surged 69% year over year to 137 million contracts. However, the European options and futures volume was 7 million contracts, down 45.3% year over year.

Recently, the securities exchanges namely, CME Group Inc. CME, Intercontinental Exchange, Inc. ICE and MarketAxess Holdings Ltd. MKTX also reported their respective June volumes. While Intercontinental Exchange's average daily volume climbed 29% to 7 million contracts, MarketAxess reported a trading volume of $127.2 billion for the same month. Plus, CME Group's contracts per day averaged at 16.6 million, up 1% year over year.
More Stock News: 8 Companies Verge on Apple-Like Run
Did you miss Apple's 9X stock explosion after they launched their iPhone in 2007? Now 2017 looks to be a pivotal year to get in on another emerging technology expected to rock the market. Demand could soar from almost nothing to $42 billion by 2025. Reports suggest it could save 10 million lives per decade which could in turn save $200 billion in U.S. healthcare costs. A bonus Zacks Special Report names this breakthrough and the 8 best stocks to exploit it. Like Apple in 2007, these companies are already strong and coiling for potential mega-gains. Click to see them right now >>
Want the latest recommendations from Zacks Investment Research? Today, you can download 7 Best Stocks for the Next 30 Days.
Click to get this free report
Intercontinental Exchange Inc. (ICE): Free Stock Analysis Report
CME Group Inc. (CME): Free Stock Analysis Report
Nasdaq, Inc. (NDAQ): Free Stock Analysis Report
MarketAxess Holdings, Inc. (MKTX): Free Stock Analysis Report
To read this article on Zacks.com click here.
Zacks Investment Research