Seattle Genetics, Inc. SGEN announced today that the FDA has accepted for filing a supplemental Biologics License Application (sBLA) for the label expansion of its lymphoma drugAdcetris (brentuximab vedotin) and granted priority review. The sBLA is filed for Adcetris in combination with chemotherapy for the frontline treatment of patients with advanced classical Hodgkin lymphoma. The FDA also set an action date of May 1, 2018.
Generally, a priority review designation from the FDA is granted to drugs that have potential to provide significant improvements in the safety and effectiveness of treatment, prevention or diagnosis of a serious disease.
Adcetris is the only marketed product at Seattle Genetics. The drug is approved for relapsed Hodgkin lymphoma and relapsed systemic anaplastic large cell lymphoma (sALCL), and for those suffering from classical Hodgkin lymphoma, who are at high risk of relapse or progression as post-autologous hematopoietic stem cell transplantation (auto-HSCT) consolidation.
In 2017, shares of Seattle Genetics have increased 5.9% compared with the industry's gain of 4.9%.
The submission of the sBLA is based on positive results from a phase II study called ECHELON-1. In June 2017, the company had announced positive top-line data from the ECHELON-1 study, which demonstrated that Adcetris achieved improvement in modified progression-free survival of statistical significance compared to standard of care chemotherapy. In fact, the ECHELON-1 study evaluated Adcetris in addition to Adriamycin, vinblastine and dacarbazine in patients with advanced classical Hodgkin lymphoma with no prior treatment.
In November, the FDA approved an expanded indication for this lymphoma drug. Seattle Geneticsannounced that the FDA has approved Adcetris for the treatment of primary cutaneous anaplastic large cell lymphoma (pcALCL) and CD30-expressing mycosis fungoides (MF) that have received prior systemic therapy. Notably, the approval was received a month before the action date set by the FDA (Dec 16, 2017).
Furthermore, Seattle Genetics is developing Adcetris in more than 70 clinical studies with the key studies including evaluation in T-cell lymphomas and Hodgkin lymphoma. Another phase III study is also evaluating Adcetris in frontline mature T-cell lymphomas. This drug is being studied in combination with Bristol-Myers Squibb Company's BMY Opdivo in relapsed/refractory Hodgkin lymphoma as well.
However, Adcetris faces competition from the other drugs that include Merck & Co., Inc.'s MRK Keytruda, which was approved for the lymphoma indication in March 2017.
Seattle Genetics, Inc. Price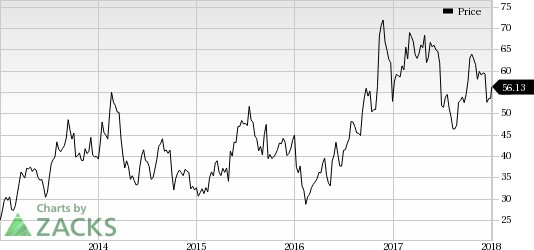 Zacks Rank & Stock to Consider
Seattle Genetics carries a Zacks Rank #3 (Hold).A better-ranked health care stock is Sucampo Pharmaceuticals SCMP carrying a Zacks Rank #2 (Buy). You can see the complete list of today's Zacks #1 Rank (Strong Buy) stocks here.
Sucampo's earnings per share estimates have moved up from 1 cent to $1.12 for 2017 and from $1.07 to $1.19 for 2018 in the last 30 days. The company delivered a positive earnings surprise in three of the last four quarters, with an average beat of 15.63%. Share price of the company has surged 28.6% in 2017.
Investor Alert: Breakthroughs Pending
A medical advance is now at the flashpoint between theory and realization. Billions of dollars in research have poured into it. Companies are already generating substantial revenue, and even more wondrous products are in the pipeline.
Cures for a variety of deadly diseases are in sight, and so are big potential profits for early investors. Zacks names 5 stocks to buy now.
Want the latest recommendations from Zacks Investment Research? Today, you can download 7 Best Stocks for the Next 30 Days.
Click to get this free report
Bristol-Myers Squibb Company (BMY): Free Stock Analysis Report
Merck & Company, Inc. (MRK): Free Stock Analysis Report
Seattle Genetics, Inc. (SGEN): Free Stock Analysis Report
Sucampo Pharmaceuticals, Inc. (SCMP): Free Stock Analysis Report
To read this article on Zacks.com click here.
Zacks Investment Research