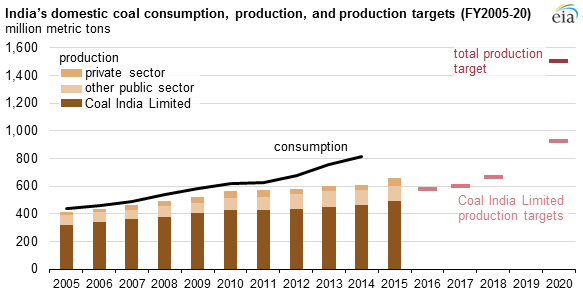 India's coal consumption, due largely to the rapid increase in India's coal-powered electricity generation capacity, has been steadily outpacing domestic production [especially over the past five years]. Coal India Limited is the country's state-run coal mining company responsible for roughly 80% of the nations coal production, and the company plans on boosting its coal output from ~500 million metric tons in FY2015 to 900 million metric tons in FY2020. That's a lofty goal, based heavily on the company's ability to woe over outside expertise. Since FY2012, Coal India Limited has been able to boost its coal production by outsourcing some of its operations to private and foreign companies. 
The Coal Mines Special Provision Bill passed back in March of this year is supposed to encourage investment in the sector by allowing private and foreign companies to actively mine for coal as long as they have an Indian subsidiary. Effectively, India is beginning to denationalize its coal mining industry in order to cope with rising demand. A copy of the bill can be found here. 
It remains to be seen how this will play out after India's Supreme Court cancelled 214 coal auction blocks in August 2014 [on the grounds of "allegations of impropriety, hoarding of coal resources, lost government revenue, and a lack of transparency", according to the EIA], which will weigh negatively on foreign direct investment in India's coal industry. The government tried to mitigate the negative effects by quickly re-auctioning off the blocks, but the real test is how the sector reacts to India's new law. At the very least, it's the step in the right direction in regards to boosting coal output to reduce reliance on imports. 
Below is a picture of India's major coal producing regions.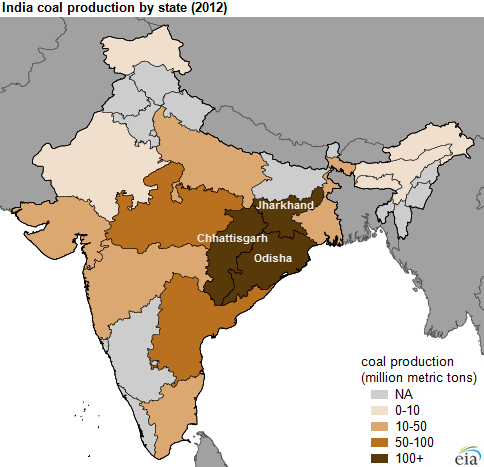 Source: EIA
What are you thoughts on this issue? And as always, feel free to like this post and comment below! Thanks for reading!