China's gold miners plan to extend the biggest buying spree in four years as the nation seeks greater clout in the global bullion industry. The prospect may be helping drive up the price of assets from Australia to the U.S.
Gold companies worldwide have surged 85 percent this year, according to an index compiled by Bloomberg Intelligence. While the best rally in bullion prices since the 1980s is pushing up valuations, they're also getting a boost from Chinese interest, according to the chief executive officer of miner China Hanking Holdings Ltd. Some of the top producers, including Zijin Mining Group Co., say they want to build on last year's spree, when the nation spent the most on overseas gold assets since 2011.
"A healthy gold price environment always spurs activity, but maybe a bigger factor is the coming-of-age of gold companies in China," said Peter Grosskopf, chief executive officer of Sprott Inc., the Canadian money manager that made its name investing in gold. "They are acquisitive, all the Chinese companies are. As they start to look overseas that will be a bigger factor for M&A than the gold price," he said in an interview in Hong Kong this month.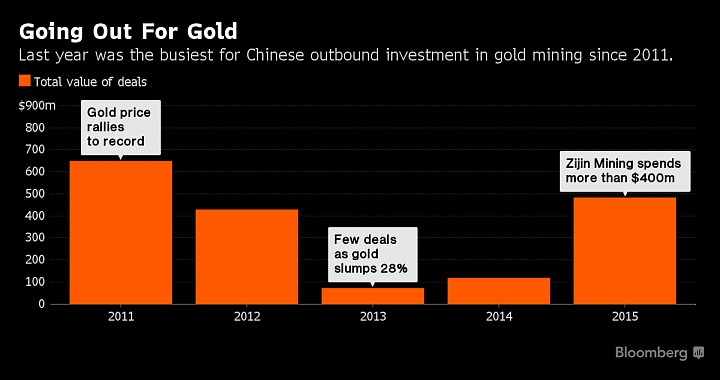 Overseas deals by companies based in mainland China peaked in 2011 at a value of $649 million, according to data compiled by Bloomberg. In 2015, the figure was back up to $483 million, led by Zijin Mining and its $298-million purchase of a 50 percent stake in Barrick Gold Corp.'s Porgera operation in Papua New Guinea.
Performing Well
Gold has...
More