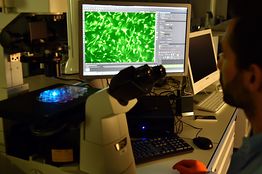 While our upgrade to OP may have been short-lived, shares have rapidly driven above our prior PT in reflection of the strong progress the company has made in improving the Lentiglobin profile for sickle-cell disease.
· However, we remain sensitive to value and to risk. And with Lentiglobin progress now more accurately reflected in shares, we remain cognizant of some important uncertainties which still need to be addressed.
What uncertainties?
Two years ago, Bluebird's ability to develop a gene therapy for sickle-cell was called into question when the results shown by one patient treated with its experimental drug did not translate into other patients.
Last week, Bluebird released preliminary data that showed a jump in the production of vector-positive cells in two patients. That raised hopes that Bluebird's program is now on track.
But Schimmer argues that Bluebird's stock price already reflects the good news, despite a number of risks, such as competition from other drug developers, the risks from expanding the trial and questions regarding how widely lentiglobin can be used.
...we move back to the sidelines without a clear sense of appropriate valuation (or why BLUE should trade at a market cap 1000% higher than ADMS).
Now at $148.45, shares of Bluebird bio are down almost 5% in recent market action.
More