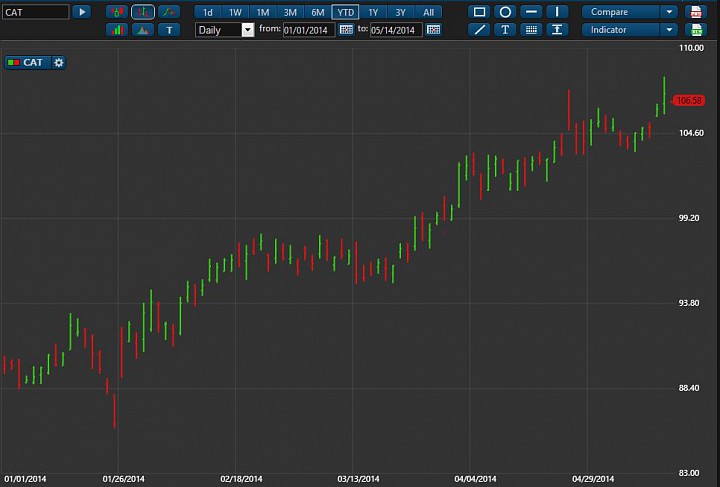 The Dow Jones Industrial Average is at record highs and if it were not for Caterpillar (NYSE: CAT), Merck (NYSE: MRK) and Disney (NYSE: DIS), the Dow would be down for 2014.  Even though CAT is just 4% of the DJIA, the equipment manufacturer is up nearly 17% YTD.  That is more than half of the DJIA's gains.  
One of the main reasons for the big gains in CAT is due to the increase in international sales which was a problem for them last year.  61% of CAT's business is international sales.  The Asia/Pacific and Latin America regions, combined, are now responsible for a third of the company's revenues.
Even though the stock is way up this year many analysts don't think that it points to a bullish outlook for the global economy.  Analysts say CAT's stock performance has more to do with dealer inventories.  Dealers took inventories way down last year because they didn't have large orders.  This year, however, dealers are replacing inventories which have caused the increase in orders.
As the DJIA continues at these highs, watch Caterpillar to see if it can continue its run or if it will lead the way down through a correction.