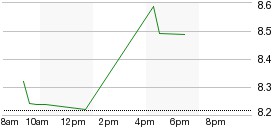 FIRST MAJESTIC SILVER CORP. (AG)(FR.TO)(FMV.F)(AG) (the "Company" or "First Majestic") has revised the release date of its first quarter 2016 unaudited financial results. The results will now be released after market on Tuesday, May 10, 2016.
First Majestic is a mining company focused on silver production in México and is aggressively pursuing the development of its existing mineral property assets and the pursuit through acquisition of additional mineral assets which contribute to the Company achieving its corporate growth objectives.
FIRST MAJESTIC SILVER CORP.
Keith Neumeyer, President & CEO
SPECIAL NOTE REGARDING FORWARD-LOOKING INFORMATION
This news release includes certain "Forward-Looking Statements" within the meaning of the United States Private Securities Litigation Reform Act of 1995 and applicable Canadian securities laws. When used in this news release, the words "anticipate", "believe", "estimate", "expect", "target", "plan", "forecast", "may", "schedule" and similar words or expressions, identify forward-looking statements or information. These forward-looking statements or information relate to, among other things: the price of silver and other metals; the accuracy of mineral reserve and resource estimates and estimates of future production and costs of production at our properties; estimated production rates for silver and other payable metals produced by us, the estimated cost of development of our development projects; the effects...
More