Invest with Confidence. Are you a financial professional? Stay on top of your portfolio with Benzinga Pro's real-time newsfeed and alerts and never miss a headline again.
Don't miss the chance to try it FREE today.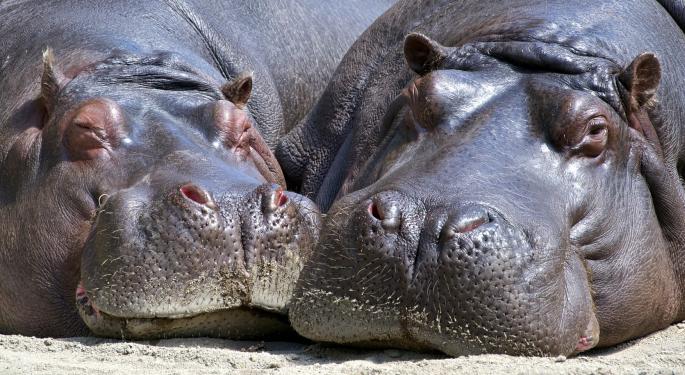 Small caps are playing a significant role in leading stocks higher off the February lows. For example, the Russell 2000 Index is up nearly 15 percent over the past 90 days, but investors still have some affinity for large- and mega-cap stocks.
Just look at the Rydex Russell Top 50 ETF XLG. That exchange-traded fund is higher by almost 13 percent over the past three months, and XLG was one of just 22 ETFs to hit all-time highs on Wednesday. The $617.7 million XLG is just a couple of weeks shy of its eleventh anniversary. As its name implies, the ETF holds the 50 largest stocks in the S&P 500.
The Indices
XLG previously followed the Russell Top 50 Mega Cap Index, which is comprised of the 50 largest companies from the Russell 1000 index. Even with the recent index swap, this is not the ETF for investors looking for mid- or small-cap exposure or even exposure to smaller large caps.
While investors often prefer the perception of safety with mega-caps, there are some drawbacks with an ETF such as XLG, particularly in a strong-trending bull market.
"Slower-growth companies typically have fewer capital investment opportunities and, thus, often have higher dividend payout ratios. The dividend yield for the Russell Top 50 Mega Cap Index of 2.3 percent is almost a percentage point higher than the average yield on stocks in the Russell 2000 Index," according to a recent Morningstar research note.
Holdings And Allocations
XLG is actually home to 51 stocks to make room for both classes of Alphabet Inc GOOG GOOGL shares. Due to its emphasis on the largest 10 percent of the S&P 500, XLG's second-largest sector weight is healthcare, meaning that sector trumps financial services for the second spot. Financials are the second-largest sector weight in the traditional S&P 500. XLG's 28.5 percent weight to technology stocks is also significantly overweight relative to the standard S&P 500.
XLG's treatment of Apple Inc. AAPL and Microsoft Corporation MSFT underscores how the ETF's index differs from the S&P 500. The standard S&P 500 allocates 5.6 percent of its combined weight to Apple and Microsoft. Those two tech titans combine for 11.6 percent of XLG's lineup.
>Other departures from the S&P 500 found in XLG include consumer discretionary being the ETF's fifth-largest sector allocation when it is the fourth-largest in the S&P 500. Additionally, XLG features no exposure to materials or utilities stocks.
© 2016 Benzinga.com. Benzinga does not provide investment advice. All rights reserved.