Yesterday, I noted that GBP/USD was consolidating between 1.24 and 1.25. The pair was pushing against 1.25, threatening to open up a bullish continuation scenario. However, 1.25 held and price is now falling below 1.24, which opens up another bearish leg. 

GBP/USD 4H Chart 11/18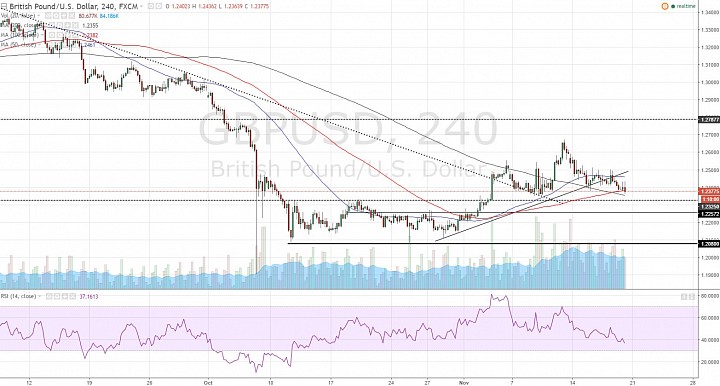 (click to enlarge)

Next support:
- GBP/USD is breaking below a rising trendline and the 1.24 pivot, but this does not mean it is bearish yet.
- We should look at the consolidation from October and monitor the upper part (resistance area) of it as possible support.
- This area goes down to about 1.2250. We can expect a rebound here.
- At this point, a rebound back above 1.2450 would challenge the bearish outlook.

Bearish scenario:
- Now, if we keep seeing resistance in this 1.24-1.2450 area, we should gain confidence of a bearish outlook.
- A break below 1.2250 would open up the 1.2080-1.21 area.