There was the drama fit for an epic US election. Going into the race, Hillary was slightly favored. But after a few hours of counting, Donald Trumps path to presidency started to look good. Whoever gets to 270 electoral votes win. It is clear now that Donald Trump has won.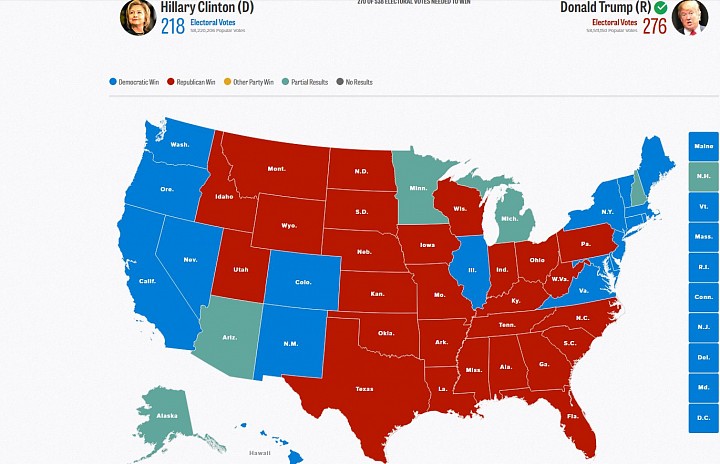 (courtesy of politico.com)

There was drama in the currency markets as well. There was a lot of displacement going on in the USD across the board. Let's take a look at the US Dollar Index (DXY) and see where the market is going after all this volatility.

DXY 4H Chart 11/9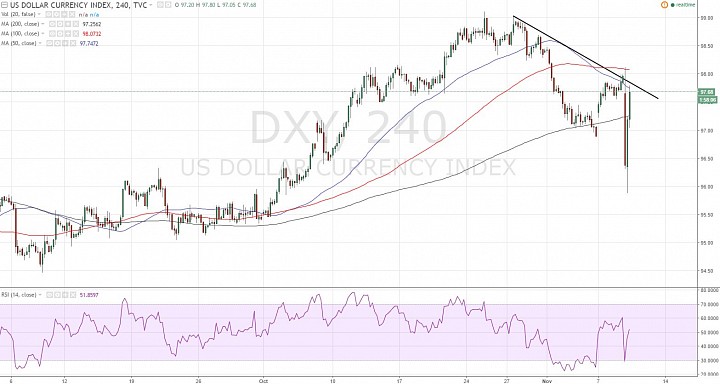 (click to enlarge)

Whippy before and after:
- Note that heading into the election, the USD flattened and was falling at the start of November. 
- This week, the USD rebounded, but remained pressured. 
- Then there was the election volatility, where the USD index fell sharply, but also rebounded sharply. 
- What can we assess from all this noise?

98.15 is key resistance, overall bears still in control:
- The V-shape reaction normally suggests a possible reversal. 
- I am not confident it is in this case. I would have to see price reverse all the way up above 98.15 to be convinced that dollar-bulls have taken over after the election drama. 
- For now, it still looks like bears are in control.
- That means, there should still be bearish pressure for the USD.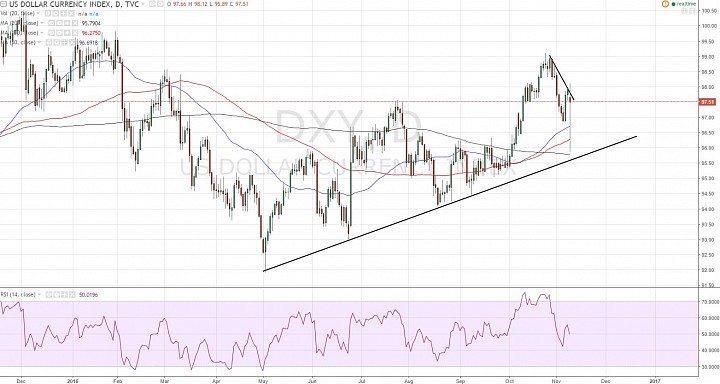 Looking at the daily chart, we can see that the 96.00 area is a key support
1) cluster of simple moving averages and a
2) rising trendline
3) A support/resistance pivot going back to March. 
4) If DXY can fall below  96.00, then we might see extension of the bearish outlook for USD. 

In summary, the upper/lower bound created during the election are key resistance and support levels.