Silver "Momentum Building" As "Supply Trouble Brewing"
Silver bullion prices are likely to rise further as there is "supply trouble brewing" as strong industrial and investment demand are confronted by declining supply.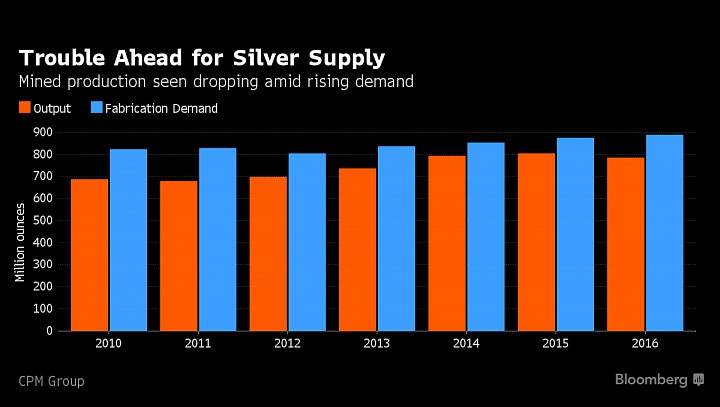 "Silver mine supply is forecast to decline for the first time in 2016, since 2011," CPM said, noting scheduled closures and planned production cutbacks.
More good news for silver bulls: there's supply trouble brewing.

Output from mines will fall for the first time since 2011, while demand for the metal in uses including industrial products and jewelry is heading for a fourth straight gain, supporting prices, according to CPM Group. The market is entering what is "likely to be a pivotal year," the New York-based researcher said in its "Silver Yearbook 2016" reported Bloomberg.
Bloomberg said that "momentum is building" as silver mine output is "seen falling for first time since 2011" at the same time that "investor holdings in silver ETFs rise at triple gold's pace".

CPM forecast global silver mine production will fall 2.4 percent to 784.8 million ounces in 2016, with output...
More