USD strength seems to have finally stalled Tuesday 5/10. Even hobbled Aussie appears to be paring its loses to the greenback.

AUD/USD 1H Chart 5/11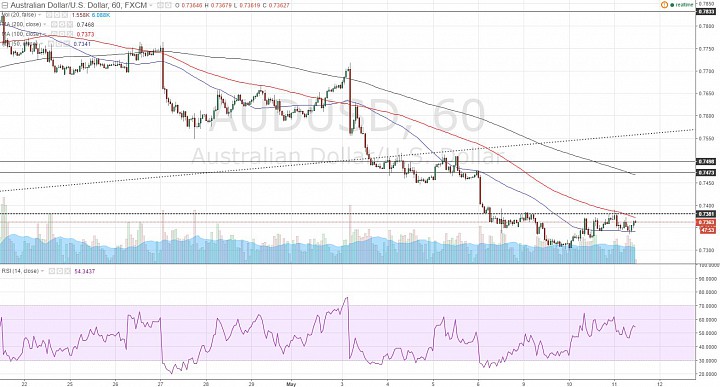 (click to enlarge)

Looking at the 1H chart, we can see a persistent decline coming to a pause as the AUD/USD attempt to complete an inverted head and shoulder pattern. 

A break above 0.7385, should complete the price bottom and open up at least 0.7450, the support pivot of a previous consolidation. A slightly more aggressive bullish outlook could be the 0.7475-0.75 area, which is a support/resistance pivot area seen in the daily chart. 

AUD/USD Daily Chart 5/11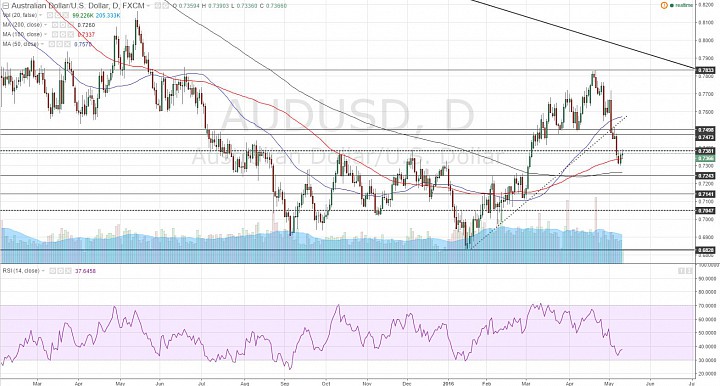 (click to enlarge)

The AUD/USD is at the crossroad and I really don't see any signs outside of a very short-term bullish attempt brewing. 

On one hand the recent decline from 0.7833 to 0.73 has been sharp and looks like it could be the revival of the bearish trend. On the other hand, price has formed a bottom from Sept 2015 to Feb. 2016. The rally from January 0.6830 to 0.7830 should also be respected. 

Ideally, I would like to wait for price to dip to 0.72 and buy with a stop just below 0.71 and a target of 0.7380. But, it looks like I should also consider selling around 0.7475-0.75 if price gets there. 

I don't want to consider buying from 0.73 area because the prevailing downswing looks too heavy, but if price falls back slowly and approaches 0.73 again, the reward to risk could be decent with a stop around 0.7275 and a target of 0.7450.