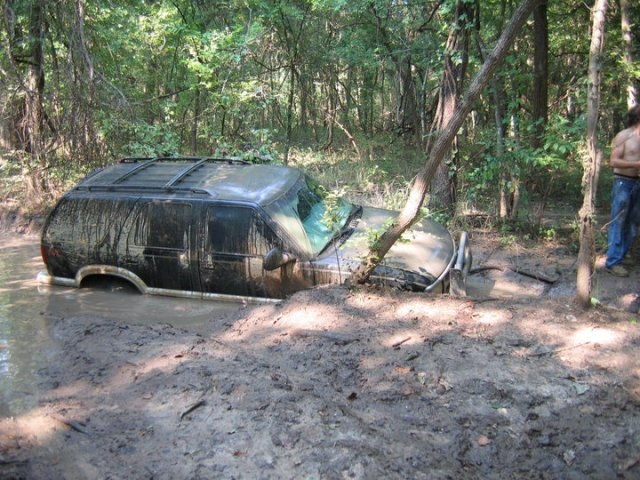 A visual equivalent of the wholesale sales figures .  .  .  stuck in a jumbo sized morass (IMG: promarkoffroad.com)
To crank or not to crank--that is the question.
That is the question facing manufacturers vis a vis factory output, as the numbers just reported this morning show a plunge in wholesale sales not seen in this country since the dog days of 2008-2009. This in turn creates a stress on corporations--the amount of time that it would take to sell of the inventory currently sitting in warehouses due to the slow sales tempo is at it's highest point in 5.5 years.
Today, the Commerce Dept announced that inventories had crept up .03% although most economists polled (see for example this Reuters report) had forecast a steady maintenance of the status quo for month over month inventory, with no change predicted in levels. Clearly, this report took the country's collective economic brain by surprise. 
Driving this is a gloomy number: wholesaler sales dropped by 3.1% for January. This is the most precipitous drop since 2009's awful month of March, in the wake of the legendary bank failures. Obviously, with product sitting around cob-webbing on stock shelves, unsold, factories are going to ratchet back production to avoid the obvious danger of inventory overstock and its dire fiscal liabilities. 
Naturally the party line is that sales have been constrained by awful weather and a slowed global tempo, and that the upcoming quarter is going to see an oversized splash in consumer spending run amok, and that this will offset the surplus product sitting in stock boxes. Whether or not this is true or not remains to be seen of course. Naturally as spring takes hold there will be an uptick in consumer spending, but whether or not this will constitute a true reboot remains to be seen. Anemic figures coming in from existing home ownership, labor pool participation, construction spending, export growth, and automobile sales have downward revised growth estimates en toto.
Here is hoping that the springtime brings a re-blossoming of all garden variety of sales, inventories are cleared, naysayers are proven wrong, wages start pumping iron, jobs explode, orders overwhelm us all, and return us to the sundrenched economic ideal of the 1990's: we return to a surplus budget, home ownership expands exponentially from Park Avenue on up to St. Ann's in the Bronx, robust trading on all markets of reasonable value-assignation, and unemployment dips down below 3% as labor participation explodes.
(Twitch) I'm sorry--was I just saying something? I zoned out.
At the moment, stocks are plunging across the board as the dollar continues to spike up to it's highest level in years. Added to the stress of our currency and inventory stocks is the kickoff of the ECB's stock-gobbling program to drive down the euro currency, which prices up American product and very deliberately make Eurozone equivalents an extremely affordable by contrast via the conversion rate.
The peaks and valleys of life in the world, taking us up and down on the never-ending ride while we still have our ticket .  .  .  .  
Preston Clive
3/10/2015***