Even as China and Russia continue to enjoy friendly political ties, the two states are yet to realize the full potential of possible economic ties with each other. Greg Shtraks, in an article for The Diplomat observes that China and Russia continue to experience "hot politics, cold economics".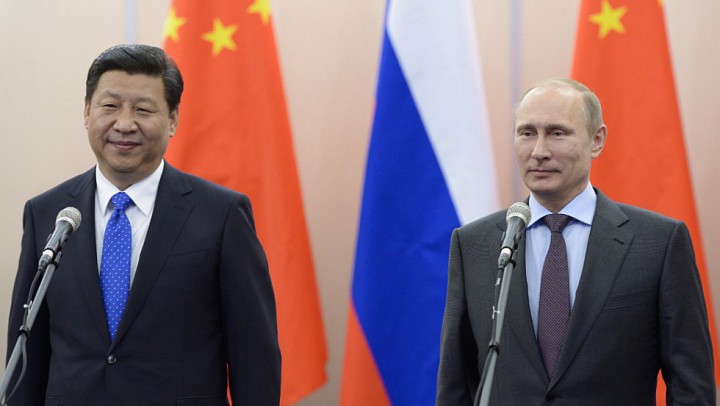 Much of the modern world order and inter-state ties are rooted in legacies of the Second World War and global events of the time. One such case in point is that of Russia and China: the two countries reported some of the highest numbers of casualties in World War II. The two countries also observe the end of the war and the triumph of the same at different times from the rest of the world: China at the onset of fall and Russia at the close of spring.
Chinese President Xi Jinping visited Moscow in May 2015 to observe Moscow's victory celebrations and now Russian President Vladimir Putin has attended Beijing's parade in September.
The visits have been interpreted by many as a sign of greater Sino-Russian cooperation. As China moves to establish itself as a global superpower and Russia seeks alliances outside of the West, the two countries have clearly identified one another as potential partners.
Chinese, Russian Economies Suffer
The interest in the Sino-Russian economic relationship stems from the fact that even as the two countries seem to be cultivating a robust political alliance, their individual economies are undoubtedly suffering. This raises the question as to why the two countries have not explored greater commercial and trade avenues together to boost their flagging economies.
The Russian economy continues on a downward spiral, with the value of the ruble falling continuously over the last two years against an inflation rate of 15 per cent. Russian oil prices continue to drop perilously low. Russia's economic health has been further damaged by the sanctions imposed against the country by much of the Western world for the Crimean crisis and the continued violence in Ukraine. Investigation reveals that even though unemployment is curtailed at 5.3 per cent, several government employees are currently working without monetary compensation. The country's disposable income has taken a hit of 2.9 per cent.
Despite these grim statistics, Russia's expansive military budget has remained unaltered for the most part, only recently being amended to reflect the country's more modest economic capacity. However, despite these economic difficulties, President Putin's government remains adamant vis-à-vis Moscow's stance on the Ukraine issue.
China's economy is not faring well either. On August 24th, 2015, a fall of 8.5 per cent was recorded for the Shanghai Composite Index. This is...
More