GlaxoSmithKline plc GSK reported core earnings of 85 cents per American depositary share in the third quarter of 2017, surpassing the Zacks Consensus Estimate of 84 cents. The bottom line was, however, flat at constant exchange rates (CER).
Glaxo's shares dropped more than 2% in after-hours trading. At the third-quarter conference call, Glaxo showed an interest to purchase Pfizer's PFE consumer healthcare business, which the latter plans to put up on sales. However, Glaxo's interest in buying Pfizer's unit raised investor's concerns about the acquirer possibly sacrificing a portion of its dividend payment due to the potential buyout. So far this year, the stock has lost 3.2% against the industry's 17.8% increase.

Quarterly revenues were up 2% at CER to $10.2 billion (£7.8 billion) on the back of strong performances mainly in the Pharmaceuticals segments. However, revenues were in line with the Zacks Consensus Estimate.
All growth rates mentioned below are on a year-over-year basis and at CER.
Quarterly Highlights
Sales were up 4% in the United States and 1% in International markets. On the other hand, sales in Europe registered a decrease of 2%.
Sales of New Pharmaceutical and Vaccine products surged 40%, driven by HIV drugs, Tivicay and Triumeq; respiratory drugs, the Ellipta products and Nucala; and vaccines to prevent meningitis, Bexsero and Menveo.
Glaxo reports results under three segments: Pharmaceuticals, Vaccines and Consumer Healthcare.

The Pharmaceuticals division registered revenue growth of 2%, driven by HIV drugs, Tivicay and Triumeq, and respiratory disease drugs, Relvar/Breo and Nucala. This upside was partly offset by the impact of recent divestments.
HIV sales rallied 13% on the back of 18% growth in the United States and 24% in International sales. Europe sales were however, down 1% year over year. Otherwise, the encouraging numbers came on the back of continued market share growth for both Triumeq (sales up 29%) and Tivicay (sales up 41%). However, sales of another HIV drug Epzicom/Kivexa tumbled 65% due to an increased generic competition, particularly affecting the European market.
Respiratory sales were flat at CER. In both United States and Europe, sales dipped 1%. However, in International markets, the same increased 3%. This downside was mainly due to a continued transition to newer products in the portfolio.
Sales of new respiratory products like Relvar/Breo Ellipta, Anoro Ellipta, Arnuity Ellipta and Nucala were offset by lower sales of Seretide/Advair sales (down 15%). Flixotide/Flovent and Ventolin sales decreased 22% and 13%, respectively.
The Ellipta products recorded a 54% surge in sales, driven by market share gains with the global roll-out continuing.
Immuno-inflammation drugs, which include Benlysta, rose 24% in the quarter.
The new grouping of Established Pharmaceuticals includes the previous Established Products, Cardiovascular, metabolic and urology (CVMU) and other Pharma products. Established Pharmaceuticals sales declined 4% in the quarter.
Sales in the Consumer Healthcare segment went up, despite a slowdown in market conditions. The power brands, particularly in Pain relief and Oral health categories, saw a strong performance in the quarter.
Sales from the Vaccines segment were flat at CER. Geographically, the United States and Europe were up 6%, whereas international markets dropped 14%. While meningitis vaccines — Bexsero, in the United States and Europe whereas Menveo in the United States — saw higher sales, the same was offset by a weak performance of the Established Vaccines, driven by increasing competitive pressures on Infanrix, Pediarix in the United States and Europe.
Notably, in October, Glaxo announced that the FDA has granted an approval to its vaccine, Shingrix, for the prevention of shingles (herpes zoster). Subsequently, during the same month, the U.S. Centers for Disease Control and Prevention's Advisory Committee on Immunization Practices (ACIP) voted in favor of three recommendations for the use of Shingrix. The vaccine is preferred over Merck's MRK Zostavax.
Outlook

The company expects to face a generic competition for Advair in the United States next year, which will affect the top line. However, there is uncertainty regarding the timing of launch of a generic version of the drug. With no generic version of Advair expected to be unveiled in 2017, the company continues to expect core 2017 earnings growth in the range of 3-5% at CER.
We remind investors that Mylan's MYL efforts to bring a generic version of Advair in the market suffered a blow as the FDA issued a complete response letter to its abbreviated new drug application (ANDA) for Advair in April, thereby delaying the entry of the generic. Hikma Pharmaceuticals PLC's generic version of Advair was also denied an approval by the FDA in May. The drug's generic version is therefore not likely to be approved this year.
GlaxoSmithKline PLC Price, Consensus and EPS Surprise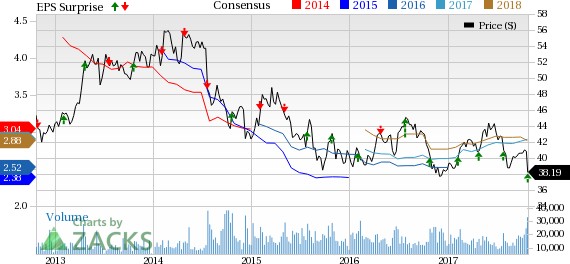 GlaxoSmithKline PLC Price, Consensus and EPS Surprise | GlaxoSmithKline PLC Quote
Zacks Rank
Glaxo currently carries a Zacks Rank #3 (Hold). You can see the complete list of today's Zacks #1 Rank (Strong Buy) stocks here.
Looking for Stocks with Skyrocketing Upside?
Zacks has just released a Special Report on the booming investment opportunities of legal marijuana.
Ignited by new referendums and legislation, this industry is expected to blast from an already robust $6.7 billion to $20.2 billion in 2021. Early investors stand to make a killing, but you have to be ready to act and know just where to look.
See the pot trades we're targeting>>
Want the latest recommendations from Zacks Investment Research? Today, you can download 7 Best Stocks for the Next 30 Days.
Click to get this free report
Pfizer, Inc. (PFE): Free Stock Analysis Report
GlaxoSmithKline PLC (GSK): Free Stock Analysis Report
Merck & Company, Inc. (MRK): Free Stock Analysis Report
Mylan N.V. (MYL): Free Stock Analysis Report
To read this article on Zacks.com click here.
Zacks Investment Research