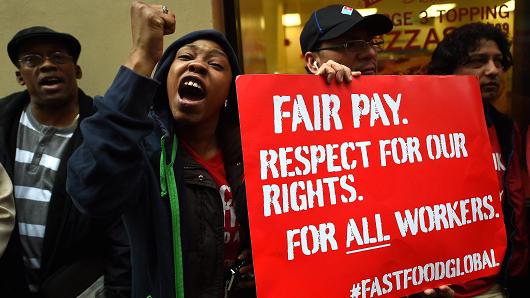 As McDonald's (NASDAQ:MCD) announced in January that CEO Don Thompson will retire after two years on the job. Easterbrook who was previously a chief brand officer has taken over on March 1.
 McDonald'swill increase pay for its U.S. restaurant workers by more than 10 percent by this other large American corporations are facing a labour charge pressure, the company said on Wednesday.
The hike will be start in July and applies to 90,000 workers at corporate-owned restaurants but this increment would not be provided to the employees of franchisees McDonald's said. Franchisees are operated nearly 90 percent of the 14,350 U.S. McDonald's restaurants and set their own pay.
McDonald's President and CEO Steve Easterbrook, who has taken the position with the struggling fast food giant last month, said in a release. "We are performing with a renewed sense of energy and our purpose is to turn our business all around".
McDonald's will pay minimum $1 per hour more than the local legal minimum labour charges to workers at company-owned stores. The average hourly rate for workers at company-owned restaurants will be rising to more than $10 per hour by the end of 2016. Some employees of company-owned restaurants will start cumulative paid leave starting in July. McDonald's said it will enhance high school and college tuition assistance for all U.S. employees.
Comments by the readers : 
"Curious whether McDonalds has an actual business case for paying more than market levels for labor which represents a significant component of its operating expenses. Their franchisees can't be too happy about this decision."
"Thank you Mickey Ds, my Doctor told me to stop eating at McDonalds. Now that Big Macs will go up to $5-$6 per burger it will be easy to pass you by. Thats how I stopped smoking, I couldn't afford it when they kept raising the price/pack."