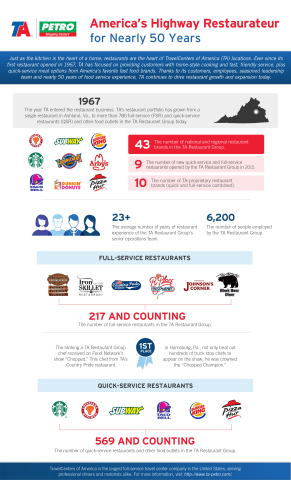 WESTLAKE, Ohio--(BUSINESS WIRE)--TravelCenters of America LLC (NYSE: TA), today announced the completion of its previously announced acquisition of certain assets of Quaker Steak & Lube® ("QSL"), for approximately $25 million, not including working capital adjustments, inventory and other closing costs.
Tom O'Brien, CEO of TravelCenters, commented: "We are pleased to welcome Quaker Steak & Lube® into the TA Restaurant Group and to bring the brand's famous wings, iconic automotive-themed décor and original sauces to customers across the country. We expect to grow Quaker Steak & Lube into a nationally recognized brand principally by franchising and licensing, but we also expect to add the brand in selected existing facilities and to be opportunistic regarding the possibility of acquiring additional locations."
John Ponczoch, Senior Vice President of the TA Restaurant Group, commented: "We are pleased to add the Quaker Steak & Lube brand to our operation. We welcome all of our new employees, franchisees, licensees and customers. We intend to continue all of the programs that made Quaker...
More