As reported first thing this morning, in addition to the jobs and wages numbers, perhaps just as importantly, the BLS would revise its entire 2014 jobs data series, which it did today as it noted:
Establishment survey data have been revised as a result of the annual benchmarking process and the updating of seasonal adjustment factors. Also, household  survey data for January 2015 reflect updated population estimates. See the notes at the end ot this news release for more information about these changes.                                                             
It wasn't kidding: remember that January of 2014 jobs print of 144K which was supposedly "horrible" and was blamed entirely on the snow, and was in fact used by the Fed in its decision-making process. Well, guess what: it was BS, and - following the BLS's revisions - actually turned out to be a whopping 247K.
It gets better: remember that whopping 353K jobs number in November? Well, following the data revision, it was boosted by 20% to a whopping 423K - the second biggest monthly jobs increase in the 21st century!
And breaking it more fully down, what was supposed to be a total gain of 2,952K jobs in 2014 has now been revised to 3,197K.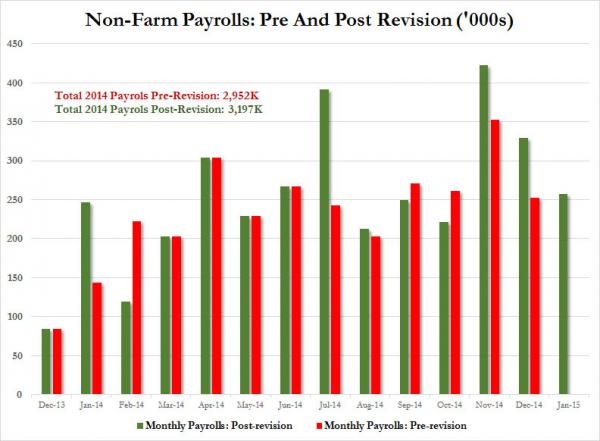 As it turns out, and as had been expected, the BLS has decided to ignore all those reports of thousands workers laid off in the energy space and mask it all with seasonal adjustment.
And the best news of the day: that average weekly wage you thought you were collecting during all months of 2014? That too was just revised higher across the board.