Have you been eager to see how The Charles Schwab Corporation SCHW performed in Q2 in comparison with the market expectations? Let's quickly scan through the key facts from this San Francisco-based brokerage company's earnings release this morning:

In Line Earnings

Schwab came out with earnings per share of 39 cents in line with the Zacks Consensus Estimate.

A rise in revenues was offset by higher expenses.

How Was the Estimate Revision Trend?

You should note that the earnings estimate revisions for Schwab depicted a bearish trend prior to the earnings release. The Zacks Consensus Estimate declined 2.5% over the last 7 days.

However, Schwab has delivered positive surprises in two of the prior four trailing quarters. Overall, the company has a positive earnings surprise of 2.1% in the trailing four quarters.
The Charles Schwab Corporation Price and EPS Surprise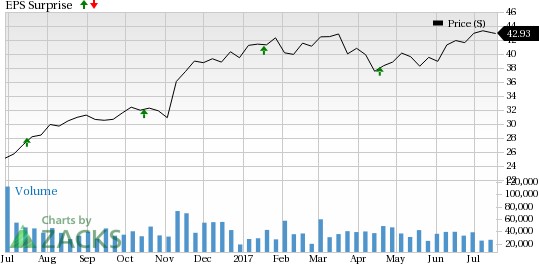 The Charles Schwab Corporation Price and EPS Surprise | The Charles Schwab Corporation Quote
Revenue Came as Expected

Schwab posted net revenues of $2.13 billion, which was also in line with the Zacks Consensus Estimate. Also, it compared favorably with the year-ago number of $1.83 billion.

Key Statistics

A steady focus on serving investor needs has helped Schwab's business grow to $3.04 trillion in client assets as of Jun 30, 2017
The company gathered $46.2 billion of core net new assets in the second quarter
Increase in average interest-earning assets by 17% to $215.8 billion at the end of the reported quarter
Fee waivers declined to $1 million from $55 million in the prior year quarter

What Zacks Rank Says

The estimate revisions that we discussed earlier have driven a Zacks Rank #3 (Hold) for Schwab. However, since the latest earnings performance is yet to be reflected in the estimate revisions, the rank is subject to change. While things apparently look favorable, it all depends on what sense the just-released report makes to the analysts.

(You can see the complete list of today's Zacks #1 Rank (Strong Buy) stocks here.)

Check back later for our full write up on this Schwab earnings report!

"5 Trades Could Profit ""Big-League"" from Trump Policies

If the stocks above spark your interest, wait until you look into companies primed to make substantial gains from Washington's changing course.

Today Zacks reveals 5 tickers that could benefit from new trends like streamlined drug approvals, tariffs, lower taxes, higher interest rates, and spending surges in defense and infrastructure. See these buy recommendations now >>
Want the latest recommendations from Zacks Investment Research? Today, you can download 7 Best Stocks for the Next 30 Days.
Click to get this free report
The Charles Schwab Corporation (SCHW): Free Stock Analysis Report
To read this article on Zacks.com click here.