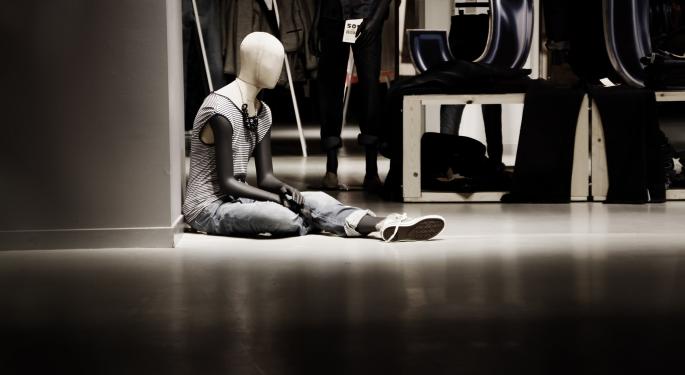 J C Penney Company Inc JCP 7.5% shares are poised to finish the week down more than 10 percent after the company announced it will be taking a series of drastic measures to help protect the struggling companies bottom line.
The New York Post reported that JCPenney has slashed payroll, frozen overtime, reduced corporate credit card allowances, banned markdowns and taken other emergency measures.
Talented Blonde Bespoke analyst Kristin Bentz told Benzinga that she's not surprised by JCPenny's struggles. Rather than following Macy's Inc. M 0.66%'s lead by focusing on online sales, JCPenney is trying to bail out a sinking ship.
"Look at the demise of Sport Chalet, and Sports Authority— the disruption is in retail is here," Bentz told Benzinga.
"Not to mention the pressure put in place by minimum wage increases across the country, it would not surprise me that JCP would try to get out ahead by cutting staff hours or releasing employees."
Related Link: Barclays On GoPro: 'Progress Being Made But Still No Near-Term Catalyst'
Long-time JCPenney investor and former activist board member Bill Ackman saw the writing on the wall way back in August of 2013. Ackman's hedge fund Pershing Square reportedly lost hundreds of millions of dollars betting on a JCPenney turnaround that never materialized. Still, JCPenney is now down another 35 percent since Ackman ditched the stock.
JCPenney investors are now bracing for the company's Q1 earnings report due out on May 13.
Disclosure: The author holds no position in the stocks mentioned.
Date
Firm
Action
From
To
Apr 2016
Northcoast Research
Upgrades
Neutral
Buy
Mar 2016
Goldman Sachs
Maintains
Sell
Mar 2016
Deutsche Bank
Maintains
Buy
© 2016 Benzinga.com. Benzinga does not provide investment advice. All rights reserved.