Gold has been rallying in 2014. so far in the first 2 months.
However, it is still in the context of what appears to be a long-term correction of the astronomical rise we saw until 2011. 
Therefore, as the market pushes up gold, we should be aware of upcoming resistance factors and technical conditions.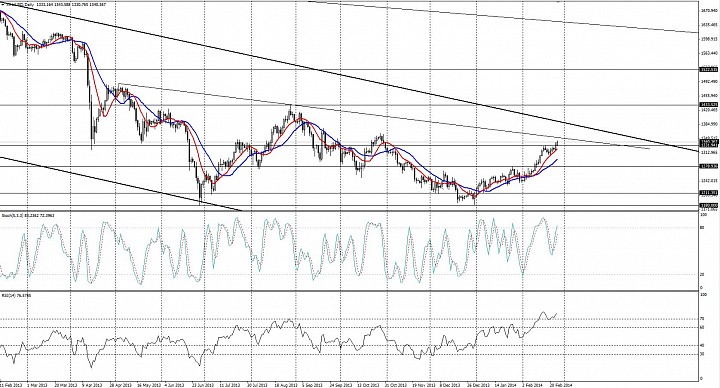 (Gold daily chart: click for full size)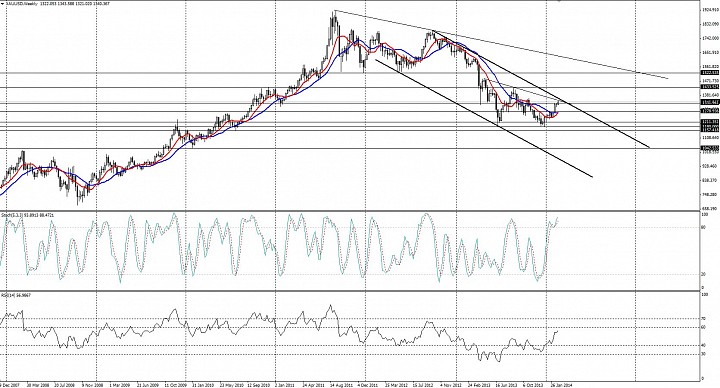 (Gold weekly chart: click for full size)
1) The daily chart shows that price action is coming near a consolidation resistance that goes back to May 2013. 
2) Just above that, there is also a falling channel resistance coming down since Oct. 2012, seen more clearly in the weekly chart. This should be more significant then the consolidation resistance.
Momentum:
1) The daily chart shows RSI and Stochastic going to overbought areas. 
2) The weekly chart shows Stochastic above 80 while the RSI nears 60. This S80-R60 combination tells me to be aware of a possible reversal back toward the downside. 
Although my outlook is bearish, it will take a couple of weeks of gold price stabilizing before I consider to short. The 2014 rally so far should be respected.