The Malaysian Airline Crash is pushing the gold higher as investors are parking their funds towards safe haven instruments. Tensions in Ukraine and in Gaza are raising concerns among investors. Fundamentally whenever there is some uncertainty in the market, safe haven price start boosting. But let's look at what technical analysis is showing.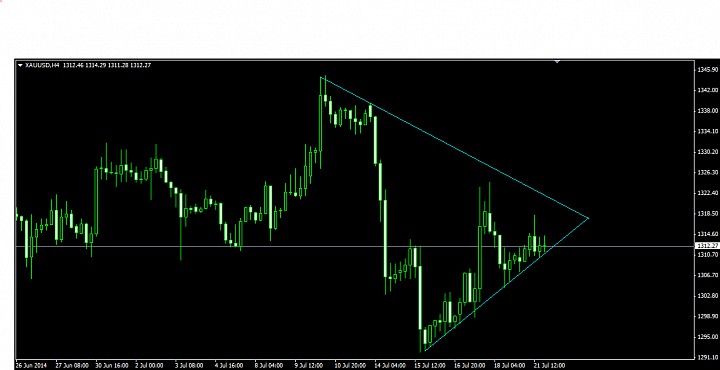 XAUUSD : 4 Hour Chart
On the 4 hour chart, the pair is experiencing a support from the rising support trend line preventing gold to fall below it. There is a falling resistance trend line which was preventing the pair to rise above it. But seems like gold will break above the falling resistance trend line and surge. But on the other hand even after high uncertainty in the market investors were not able to push the Gold prices higher although providing support. So Gold might also break below the rising support trend line.

Fundamentally there is no other driver for price increase so unless there is some real re escalations in tensions between Russia and Ukraine,Gold might consolidate or decline. Current surge seems a short term result. For long term driver for price would be Fed Interest rate Increase Decision. And as the economy will be growing, Gold will definitely be declining.