Deepwater Wind installed the first foundation of its American offshore wind farm, the first American offshore wind farm, back in July 2015. The project is located three miles off of the coast of Rhode Island. In 2016, five turbines with 30 megawatts of capacity is slated to become operational at Deepwater Wind's Block Island development.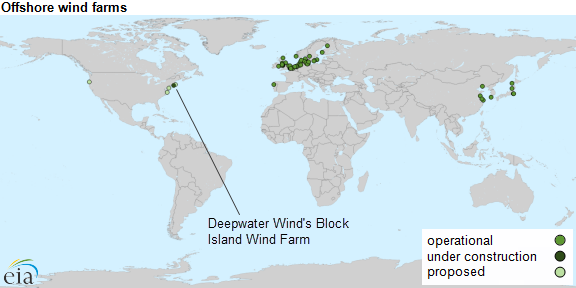 Offshore wind farms are more expensive to build and maintain than onshore operations, but a major benefit is that more consistent wind speeds enable offshore wind farms to sport higher utilization rates. Even so, onshore wind farms have clearly been America's preference due to the better economics of those projects. Deepwater Wind is considering two additional developments along the Atlantic Coast, but when the trigger is actually pulled on those projects remains to be seen. 
Thanks for reading! What do you think about America's offshore wind farm electricity generation potential? 
If you want to read more about the energy industry and to participate in my daily forecasts, click here.