After collapsing on the heels of a poll a week ago suggesting Dilma Rousseff was leading in Brazil's Presidential election (and thus bad for business, more of the same lack of reform), the weekend's vote - while confirming Rousseff's lead - did not give her a majority and pro-business candidate Aecio Neves had a strong showing. Brazil's stock market IBOVESPA index exploded 8% higher on hope that this may mean 'change' as Brazilians clearly signaled disenchantment with current policies... even as Rousseff is still the strong favorite.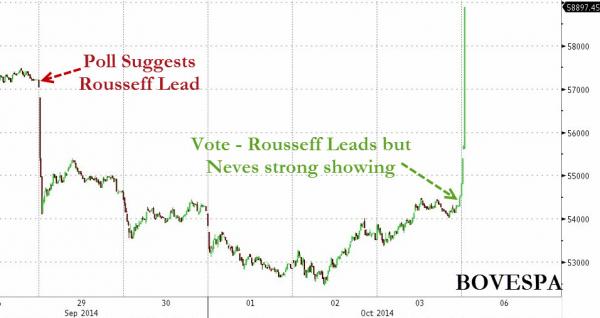 As The NY Times reports,
President Dilma Rousseff emerged on Sunday as the front-runner in one of the most tightly contested presidential elections since democracy was re-established in Brazil in the 1980s, but she failed to win a majority of the vote, opening the way for a runoff with Aécio Neves, the pro-business scion of a powerful political family.

 

Ms. Rousseff got 41.5 percent of the vote, against 33.7 percent for Mr. Neves and 21.3 percent for Ms. Silva, electoral officials said, with 99 percent of votes counted.

 

While Ms. Rousseff, 66, is expected to remain the favorite going into the Oct. 26 runoff, the surge by Mr. Neves reflects disenchantment among many voters with Ms. Rousseff's leftist Workers Party, which is seeking to remain in power amid criticism over a sluggish economy and a scandal shaking the nation's oil industry.

 

...

 

Mr. Neves, 54, has signaled that he would put in place policies aimed at calming the markets, like easing controls on fuel prices and improving the transparency of public finances. A top adviser of his campaign is Armínio Fraga, a Princeton-trained former central bank president who now operates an investment firm based in Rio.

 

...

 

Mr. Neves has to lure the support of voters like Mr. Ferreira if he is to mount a more serious challenge to Ms. Rousseff. But Mr. Neves's party faces some skepticism from poorer voters and corruption problems of its own, including a bribery and price-fixing scandal over contracts to supply subway equipment in São Paulo.

 

The race between Ms. Rousseff, a former leftist guerrilla, and Mr. Neves, whose grandfather was elected president in 1985 but fell ill and died before he could take office, suggests that polarization could grow more acute.
*  *  *