Silver has had a rough year, slumping to major new secular lows.  After sliding on balance for years now, even the diehard silver bulls are losing faith in their metal.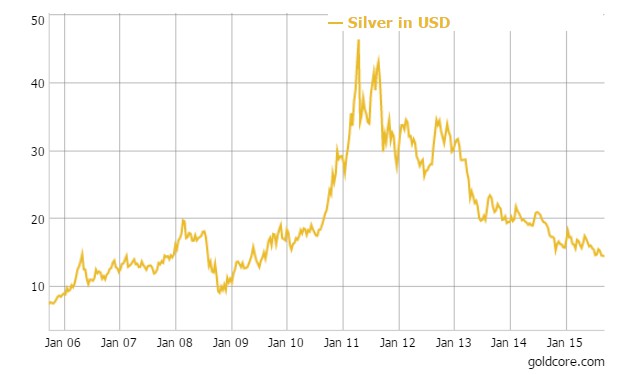 Silver in USD – 10 Years
Despite its vexing slumber, silver's price-appreciation potential from today's levels remains enormous.  Between radical under-investment and very high speculator silver futures shorting, silver is poised to see massive buying as gold recovers.
Like all markets, silver is forever cyclical.  It perpetually meanders from in favor to out of favor and back again.  And after falling on balance for years as QE3 sucked capital and interest away from portfolio diversification with alternative investments, silver is way overdue to reverse into its next major bull.  
The brave contrarians willing to buy silver and its miners low before this becomes widely apparent stand to earn fortunes.
Editors note: Adam Hamilton of Zeal Speculation and Investment was one of the few contrarian analysts who correctly predicted that silver would rise from below $5 to nearly $50 per ounce in the early 2000s.  Adam is calling for similar gains for depressed silver today and his latest research is well worth a read – "Silver's Vexing Slumber"
DAILY PRICES
Today's Gold Prices: USD 1108.00, EUR 977.98 and GBP 716.97 per ounce.
Friday's Gold Prices: USD 1106.35, EUR 980.85 and GBP 716.87 per ounce.
(LBMA AM)
On Friday, gold ended with a loss of nearly 0.5% to result in a weekly loss of 1.6%. Silver lost 14 cents, or 1%, to $14.51 an ounce, for a weekly loss of 0.3%. Platinum was 2% lower for the week while palladium bucked the trend and gained 2.4% for the week.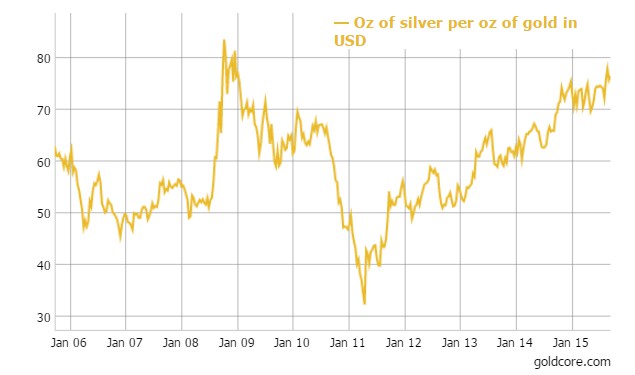 Gold Silver Ratio –  10 Years
Gold was marginally lower in gold trading in Singapore and was flat in European trading. Prices are near $1,108/oz,  not far from a one-month low of $1,098.35 reached in the previous session. 
Investors await a Federal Reserve policy meeting on Wednesday and Thursday for clarity on when the U.S. central bank might hike interest rates.
IMPORTANT NEWS
Gold price: all eyes on Fed as 'test' of lows predicted – The Week
Gold hovers near one-month low as traders eye Fed meeting – Reuters
Fischer's 2014 Why-Wait Wisdom Points to Fed Liftoff This Week – Bloomberg
Gold Bulls Can't Shake Fed Woes as $2.6 Billion Wiped From ETPs – Bloomberg
Solid gold key to Clerys worth €12,000 comes to light – The Irish Times
IMPORTANT COMMENTARY