GBP/USD has been consolidating. A failed attempt to push above 1.7180 last week resulted in further consolidation, and perhaps a bit of bearish correction as price is trading in a falling wedge, or pennant.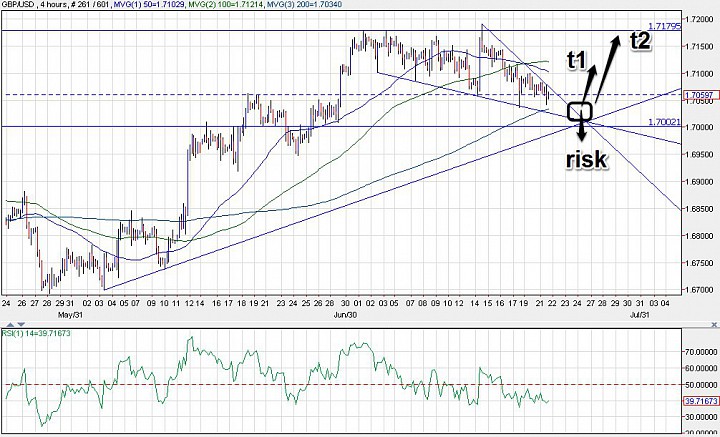 (GBP/USD 4H Chart, 7/22)
The consolidation pattern itself indicates that the prevailing bullish trend is still in play. A break above this pattern should open up a bullish continuation scenario. 
Also, if price edges lower, we should expect support in the 1.70-1.7020 area. Here, we find convergence of many support and resistance factors as you can see in the 4H chart. Essentially, a break below 1.70 would open up further bearish outlook. 
Let's take a look at the
reward to risk profile
of a trade plan to buy in the above support area mentioned above:

Risk:
Because of the seeming importance of 1.70, our stop can be placed below it, ie. 1.6980.

Reward:
If the market does find support here, the target could be first toward the middle of the previous consolidation range, which can be considered around 1.7115. This can be target 1, or t1. Target 2, or t2, could be a return toward the 2014-highs around 1.7180. These constitute a conservative and moderate bullish outlook. An aggressive outlook would be a bullish continuation that pushes above 1.7180. This is a relatively more aggressive" outlook, but when you look at the daily chart, you will see that it merely follows the uptrend that has been intact for over a year now.

Entry:
Let's say we see price support in the 1.70-1.7020 area, then enter at 1.7025.

Risk = 1.7025-1.6980 = 45 pips.
R1 = 1.7115-1.7025 = 90 pips
R2 = 1.7180-1.7025 = 155 pips.

R1:R = 90:45 = 2:1
R2:R = 155:45 = 3.4:1

With attractive reward to risk, we should anticipate buyers in the 1.70-1.7020 area, even if we don't make the trade here.