I remain a big fan of shorting the JPY as I think it seems to be the most "logical" trade in the sense that the BOJ continues its policy of QE and may expand stimulus in the first half of the year if its effects are not potent enough.
<!== INSTRUMENT %% %10080% ==!>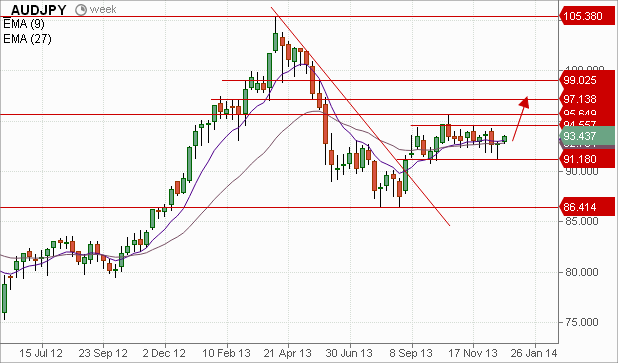 While I have been writing a lot about the USD/JPY, EUR/JPY, and GBP/JPY over the last couple of months, I haven't talked much about the AUD/JPY because the Aussie has been a weakling itself.
However, the tide may turn a bit for the Aussie, especially if the AUD/USD is able to carve out a little bit of a bottom.

Therefore, when looking for a currency to play against the JPY, the EUR, GBP and USD are already pushing multi-year highs while the Aussie has been stuck in a relatively tight range over the last 15 weeks.

It's premature to say its happening yet, but could we be seeing the initial signs of a rally that can break through that long-term range?

If so, then we have some white space above for the pair, with price targets of 95.65, 91.15 and 99.00.

Again, this would require some better performance from the Aussie in general, or perhaps a view from other big players that the gains in the other JPY crosses means that the AUD/JPY may be relatively undervalued at the moment.