Sohu.com Inc. SOHU reported results for second-quarter 2017. While the top line recorded a significant year-over-year improvement, the bottom line didn't fare well when compared with the year-ago quarter.

The company reported non-GAAP loss of $1.85 per share, which was wider than the year-ago quarter's loss of $1.62. Adjusted loss per share (excluding all one-time items but including stock-based compensation) was $2.17. The Zacks Consensus Estimate was pegged at a loss of $1.73 per share.

Sohu's revenues of $461.2 million beat the Zacks Consensus Estimate of $413 million. Revenues were up 9.8% year over year and 23.3% on a sequential basis.

The robust growth was mainly driven by solid performance of the Legacy TLBB mobile game, which it launched in mid-May, along with continued strong growth momentum witnessed at the mobile search. This was partially offset by depreciation of RMB against major currencies.

Quarter Details

Total online advertising revenues (inclusive of revenues from brand advertising, search and search related businesses) fell marginally year over year to $272.8 million from $273 million in the year-ago quarter.

Brand advertising revenues in the reported quarter fell 23.8% to $86.1 million on a year-over-year mainly due to weak video and ad sales.

Search and search-related revenues increased 16.6% to $186.7 million on 24% growth in search traffic. Notably, mobile traffic grew over 50% during the quarter.

Online game revenues were up 23.3% from the year-ago quarter mainly on strong performance of the newly launched Legacy TLBB mobile game.

Sogou's revenues grew 20% year over year and 30% from the previous quarter to $211 million, driven by increase in mobile and search traffic.

Margins

Non-GAAP gross margin in the quarter decreased to 40% from 49% in the year-ago quarter. Non-GAAP gross margin of the company's online advertising business was 19%, down from 39% in the prior-year quarter.

Brand advertising business margin was negative 45%, reflecting a sharp drop from 17% reported in the year-ago quarter primarily due to higher video content cost.

Non-GAAP gross margin for the search and search-related business in the quarter was 48%, down from 55% in the year-ago quarter. Higher traffic acquisition cost was one of the major reasons for declining margins.

Non-GAAP gross margin of the company's online game business was 91% compared with 74% reported in the prior-year quarter. The successful launch and accelerated adoption of the online Legacy TLBB game was a key growth factor driving margin.

Sohu's non-GAAP operating loss was $27 million compared with a loss of $26 million in the year-ago quarter.

GAAP loss per share was $2.28, significantly wider than the year-ago quarter's loss of $1.64.
Balance Sheet
Sohu exited the quarter with cash and cash equivalents (and short-term investments) of $1.24 billion compared with $1.25 billion as of Mar 31, 2017.

Outlook

For the third quarter of 2017, Sohu expects revenues in the range of $480–$510 million.

Management estimates brand advertising revenues in the range of $70 million to $80 million, representing 28% to 37% year-over-year decline.

Sogou revenues are expected in the range of $230 million to $240 million, representing 39% to 45% year-over-year increase. Online game revenues are expected in the band of $120–$130 million, hinting at a year-over-year decline of 22% to 32%.

The company expects non-GAAP loss per share between $1.00 and $1.25.

Sogou to File for IPO

Concurrent with its second-quarter results, Sohu announced that it intends to file for an IPO of American depositary shares (ADS) for its subsidiary, Sogou with the U.S. Securities and Exchange Commission (SEC). However, the exact number of ADS to be offered has not been determined.

The announcement overshadowed the dismal second-quarter bottom-line performance, sending Sohu's shares up approximately 12% during yesterday's trade. Notably, the stock has gained 67.7% in the year-to-date period, significantly outperforming the 21.6% rally of the industry it belongs to.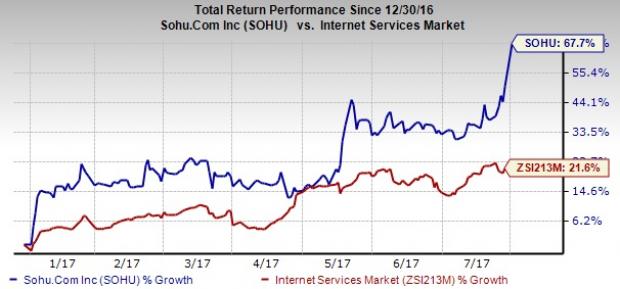 Our Take

The newly launched Legacy TLBB game has brought some respite for the company's online gaming business. The Legacy TLBB mobile game has gained positive response since its launch. Simplified features of the game are grabbing the attention of gamers, thereby positively impacting its customer base. Sohu management noted that the game has been ranked among the top three grossing games in the Apple AAPL application store. The game is likely to drive the company's top-line results over the next few quarters.

Moreover, Sogou continues to gain popularity and market share through increased product quality and effective marketing campaigns.

However, lower spending levels in China, which is affecting the company's brand advertising revenues and intensifying competition, pose concerns.

Zacks Rank and Stocks to Consider

Sohu currently has a Zacks Rank #3 (Hold).

Better-ranked stocks in the industry are Alibaba Group Holding Limited BABA and Applied Optoelectronics, Inc. AAOI, both sporting a Zacks Rank #1 (Strong Buy). You can see the complete list of today's Zacks #1 Rank stocks here.
Long-term earnings growth rates for Alibaba Group and Applied Optoelectronics are projected to be 30.4% and 18.7%, respectively.

Will You Make a Fortune on the Shift to Electric Cars?

Here's another stock idea to consider. Much like petroleum 150 years ago, lithium power may soon shake the world, creating millionaires and reshaping geo-politics. Soon electric vehicles (EVs) may be cheaper than gas guzzlers. Some are already reaching 265 miles on a single charge with battery prices plummeting and charging stations set to multiply, one company stands out as the #1 stock to buy according to Zacks research.

It's not the one you think.
Want the latest recommendations from Zacks Investment Research? Today, you can download 7 Best Stocks for the Next 30 Days.
Click to get this free report
Alibaba Group Holding Limited (BABA): Free Stock Analysis Report
Sohu.com Inc. (SOHU): Free Stock Analysis Report
Apple Inc. (AAPL): Free Stock Analysis Report
Applied Optoelectronics, Inc. (AAOI): Free Stock Analysis Report
To read this article on Zacks.com click here.
Zacks Investment Research