On Wednesday, some were curious to know why a line of armored vans was stationed outside the Bank of Spain's Barcelona branch.
Our interest was piqued when we remembered that on Sunday, Catalans will vote in what might as well be an independence referendum. 
We'll spare readers a lengthy discussion of the history behind the independence movement and just note that CDC and ERC need 68 seats for an absolute parliamentary majority. If they hit that threshold, they'll push quickly for an independent Catalonia. Based on the latest polls, it looks like it's going to be close: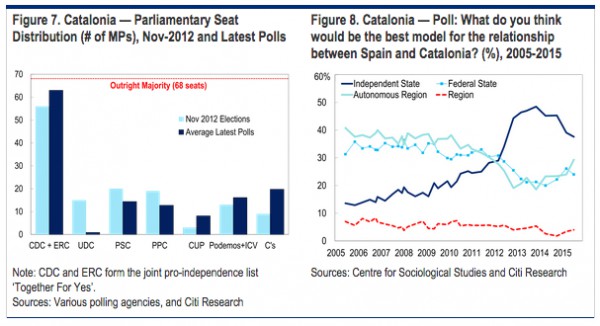 It doesn't require a leap of logic to draw a connection between what looked like unusual activity at a central bank branch in the Catalan capital and this Sunday's vote and so, we took the opportunity to ask the following: "Is the Bank Of Spain quietly pulling its gold from Catalonia ahead of this weekend's vote?"
The answer, according to The Bank Of Spain itself who was kind enough to send us a letter this morning, is "no." We present their response below without further comment:
Good morning,

 

Regarding the story posted by Tyler Darden on 09/23/2015 under the headline Is The Bank Of Spain Quietly Pulling Its Gold From Catalonia Ahead Of This Weekend's Vote?, we want to point out the following:

 

Nothing extraordinary happened yesterday in the building of Banco de España in Barcelona. A number of armoured vans were stationed for a while in the street because of the increased movement of cash being distributed to the commercial banks prior to the banking holiday in Barcelona today (followed in many cases by another non-working day tomorrow or "Puente" as it is called in Spanish).

 

We gladly provided this explanation yesterday to the media which happened to ask us about the matter (which was not the case of VilaWeb, that did not contact the Banco de España regarding this –or any other- matter).

 

And, by the way, there is no gold in this site of Banco de España in Barcelona.