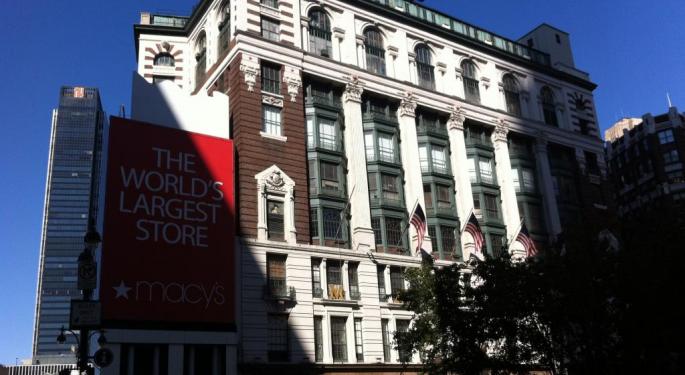 On Thursday, brick-and-mortar retail suffered another heavy blow when Macy's Inc M 0.03% announced it's closing another 100 stores. The Macy's closures represent about 15 percent of the company's total number of department stores.
More retail store closures is yet another victory for e-commerce retail giant Amazon.com, Inc. AMZN 0.17%, which has single-handedly taken a huge bite out of the brick-and-mortar retail market.
However, retail stores aren't quite dead just yet, and the Macy's store closings could be a positive for some of its top competitors.
J C Penney Company Inc JCP 6.14% CEO Marvin Ellison addressed the impact of Macy's and Sears Holding Corp SHLD 2.99% closings on J C Penney's recent conference call.
"When Sears closes in a mall that we're in, it's a net positive for JCPenney. Our sales increase. In some of the most recent Macy's closures in malls in which we occupy, it's been a net positive for JCPenney," Ellison explained.
Other beneficiaries from the Macy's closures likely include competitors such as Kohl's Corporation KSS 1.7% and Nordstrom, Inc. JWN 8.03%.
On the other hand, for companies that derive a substantial amount of revenue from wholesale channels, the Macy's closings could weigh on sales. For example, Macy's is responsible for 12.7 percent of Michael Kors Holdings Ltd KORS 0.69% sales and 11 percent of Ralph Lauren Corp RL 0.47% sales.
© 2016 Benzinga.com. Benzinga does not provide investment advice. All rights reserved.
Source