Gold has been rallying in October from a low of about 1183 to 1345, a 5.6% gain. The daily chart shows that we had a recent bullish engulfing candle, which suggests some further upside. We also see that this upside has to clear the current resistance around the 38.2% retracement and June's support pivot.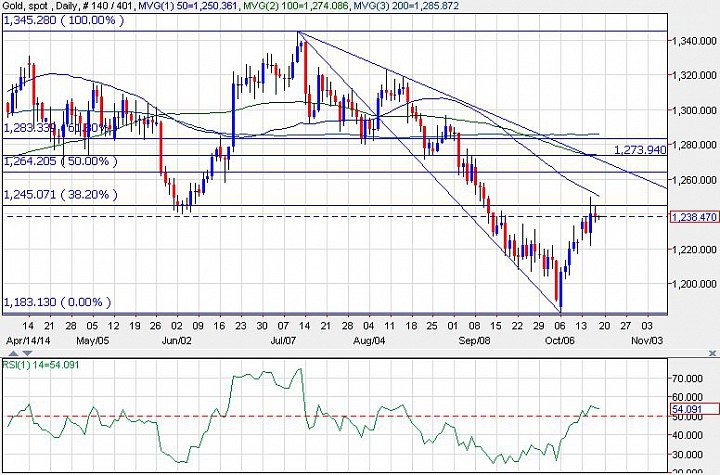 (click to enlarge)
Now, if price pushes above 1250, it will encounter resistance between the 50 and 61.8% retracement, where we will also see a support/resistance pivot, and common support during the April-May consolidation. This area will also be reinforced by a falling trendline and the 100-day SMA. If price stalls here, and the RSI also stalls around 60, we should anticipate a bearish continuation attempt.

Now, let's look at this week's fundamental data - price action dynamic. During the 10/15 session, we got poor US data in inflation, retail sales, and manufacturing, which whacked the USD across the board. Then, during the 10/16 session, good jobs and production data failed to give the USD any real spark except to hold off the current USD-weakness.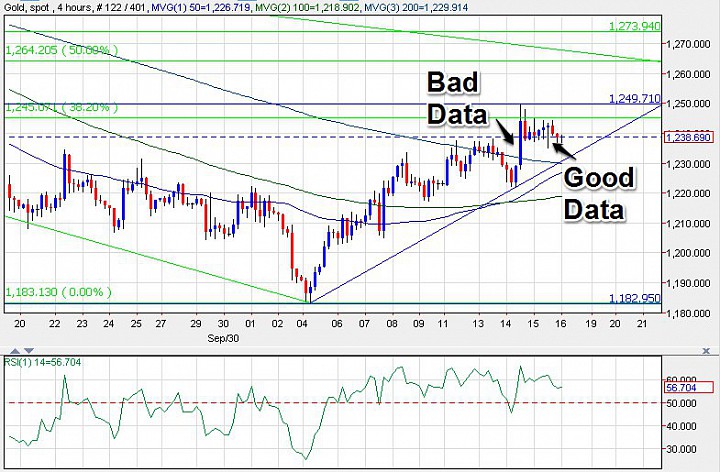 (click to enlarge)
This combination of events suggest the USD might indeed be in a consolidation/correction mode and gold might have some further room to rally in the short-term. But do remember the reasons to look for resistance when price approaches that 1274 area.