Hess Corporation has one of the best balance sheets in the business, making it a possible takeover target.
If that doesn't happen, Hess has its international operations to generate upside for investors.
Full field development in the North Malay Basin will more than quadruple production from the venture by 2017.
Exxon Mobil and Hess Corp's Liza-1 exploration well located 500 MMBOE of recoverable oil-weighted resources, but a longstanding territorial dispute between Venezuela and Guyana is getting in the way.
Hess Corporation (NYSE:HES) has one of the best balance sheets in the business. Pro forma for its Bakken midstream deal, Hess Corp had $3.9 billion in cash at the end of Q2 2015, an untapped $4 billion revolving credit line that matures in January 2020, and $800 million in committed lines of credit from various sources [only $11 million drawn]. That means Hess has ~$8.7 billion in liquidity, enough to fully cover its 2015 capex budget twice.
On top of a solid liquidity position, Hess Corp's debt situation is contained. Hess had $5.8 billion in long term debt at the end of Q2 for a net debt load of $1.9 billion. Most of that isn't due for a long time, with just $1.8 billion of Hess' debt maturing through 2019.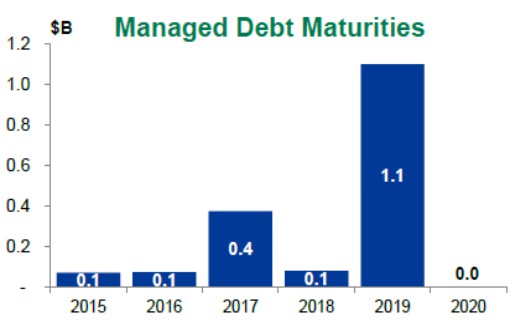 Source: Hess Corporation Presentation
Due to its rock solid financial position and promising growth prospects, Hess Corp could be an attractive takeover target especially in a stock-for-stock deal. In a stock-for-stock acquisition, the acquiring company could take advantage of Hess' balance sheet by reducing its net debt-to-capitalization ratio as it spreads its debt out while gaining access to plenty of cash and liquidity.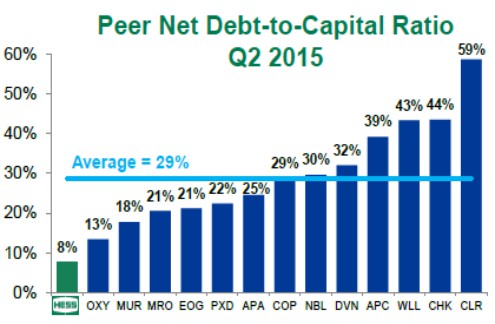 Source: Hess Corporation Presentation [includes midstream deal]
Even if the company isn't bought out, Hess Corp has its long term international growth ambitions to look forward to.
Malaysian growth
Hess Corporation is the operator of [with a 50% working interest] the North Malay Basin Integrated Gas Development Project...
More